Will you accepted Khalid Boulahrouz this season
by Magpies | June 27, 2008 12:53 pm
It seems all rather predictable that all the talk around football in England this summer is about potential transfers – most of which don't even materialise. I guess the fact that England failed to qualify for Euro 2008[1], probably exaggerates this even further.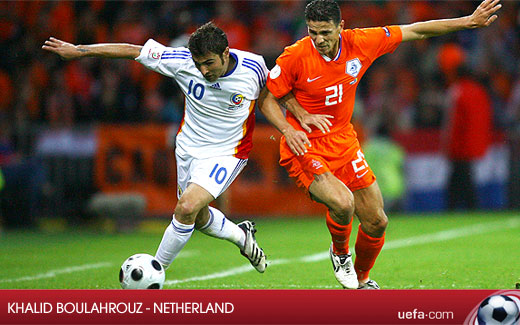 I mean, there is only so much we can talk about how lucky the Germans are, how unlucky Turkey were or how this could be Spain's year. It is all about the countdown to the Premier League for Newcastle United fans and to help fill this 'boring' period between now and the beginning of the season – it's all about transfer rumours.
The latest to be linked with a move to St James' Park is Chelsea defender Khalid Boulahrouz. The centre back moved to Stamford Bridge a couple of years ago, but failed to convince at Premier League level and was shipped out to Spanish side Sevilla last season.
With Steven Taylor crying out for a defensive partner in this coming season, it's hardly a surprise that Newcastle are being linked with central defenders. Boulahrouz presumably did enough in his performances for Holland in Euro 2008 to impress Kevin Keegan – despite the fact that the former Hamburg man was substituted in all but one of their games during the tournament.
I don't think I'd be alone in thinking that this wouldn't be a great signing for Newcastle – especially at the £5m price tag that is being mentioned. I don't think the Newcastle faithful needs another 'unproven at this level foreigner' to frustrate them next season.
Mr. Boumsong provided enough of that himself in his short stay at the club. Boulahrouz is known for being injury prone as well and that's the last thing Keegan needs, because everyone knows that if you mix an injury prone player with Newcastle United it results in that player barely playing a game for the club – at a significant cost.
On the other hand, it is getting to the stage where we have to bring some people in. Defenders especially. With David Edgar's future uncertain and Claudio Cacapa adding to the defensive problems last season – the defensive unit does have to be bolstered. Boulahrouz can play at both centre back and right back, which would prove handy and at 26 years of age he should be edging towards his footballing peak. I just can't imagine him – a) coming in the first place or b) performing consistently without getting injured.
It is evident that Keegan still has a lot of work to do this summer and if you were to bet on the Premier League[2] now, you wouldn't back Newcastle to trouble the top-six teams – that's for sure. I hope I am right in thinking though, that a lot of work is being done behind the scenes to bring players into the club to help Newcastle have a decent season.
As the weeks go by though, without nothing but rumours in the shape of this Boulahrouz one – I get the feeling Newcastle will have to begin pre-season without making any major signings. It's not ideal as most managers will tell you; players need time to gel together.
That's not a luxury Keegan will be blessed with, but I trust him to bring the right players to club. Whether Khalid Boulahrouz fits this mould….I'm unconvinced. Thoughts?
Thomas Rooney – Freelance Sports Journalist
Endnotes:
Euro 2008: http://betting.betfair.com/football
bet on the Premier League: http://betting.betfair.com/football
Source URL: https://www.magpieszone.com/will-you-accepted-khalid-boulahrouz-this-season/
---