When we able to call Newcastle United is OUR Club again
by Magpies | September 5, 2008 6:48 am
I was in my early teens when KK first took over back in the 90's. My Dad wouldn't let me go to any of the games in that year when they got promoted to the Premier League because he liked to stand in the Gallowgate and said it was too rough for a young lad.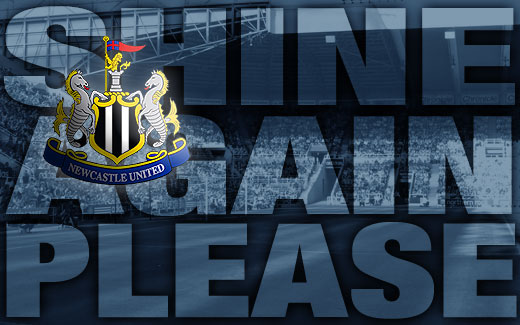 However we got promoted and as a result my Dad in somewhat euphoric state decided that this was too good an opportunity for me to miss and bought us both a Season Ticket in what was the Milburn paddock. It was still standing room only but because it was a smaller area than the Gallowgate was safer and a little less boisterous.
And so began a 12 year love affair with the club. The highs of those first few seasons when we were punching well above our weight and the Champions League excursions through the disappointments of selling Andy Cole, Keegan leaving the first time around, terrible new managers, Guillit, Daglish, and an relatively good one in Sir Bobby. Then some worse ones in Roeder and Allardyce.
I moved away from Newcastle for a while but still followed the club from London and have been to my fair share of games in the Capital and back at St. James. I was there the day we got beat 3-1 by Portsmouth at home -Thanks for that Sam.
I won't go on. I know that I have suffered less than a lot of hardcore fans, including the really long suffering older generations and those that love the club but cannot afford to attend games as often due to the pricing structures.
When I heard the news last night I was close to tears, but at the same time felt nothing. There was no real emotion there any more. Newcastle United Football Club? They should change that to Un-United because that's what they are, and have been for a long time now.
I will still go to the games because I don't believe that I could ever support another team but I don't know if I will ever be able to really love watching them again.
A few years ago my Dad apologised to me for taking me to my first game and indoctrinating me into the cult of football. Dad it's OK you don't need to apologise, I forgive you. Will I ever be able to forgive the Board for what they have done to OUR club? Never.
The rumour mill has started already with new managers names being touted do I care? Well yes. I think we all hope that the Board will take this opportunity to bring in a manager that agrees with their continental managerial set up and has a proven track record as a player and/ or manager.
I might be tempted back if we get Didier Deschamps. I would doubt that he would be interested given the lack of money seemingly available and unsettled team that he will inherit.
You might have read the rambling script and find yourself wondering what the hell I'm going on about. There doesn't seem to be any point and the contradictions are rife for all to see. That is my point.
Muchos Gracias Mike Ashley from a now indifferent, downhearted, deflated once dedicated fan who doesn't even know what to say or where he stands in relation to your business venture because that's what this is isn't it?
Source URL: https://www.magpieszone.com/when-we-able-to-call-newcastle-united-is-our-club-again/
---