What makes Newcastle United so special, according to Steve Harper
by shearyadi | September 12, 2013 10:08 am
Football in general attracted the most attention everywhere, and was one of the most popular sport in the whole world. You can ask any young lad anywhere about football, and they will anwer you with long sentences and tells how interesting it is and how they adore football players and dreaming of one day they may become one of them.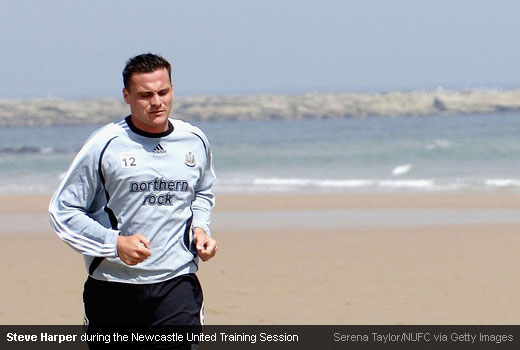 For everyone in the North East of England especially, football is not just a game, it's in their blood since the day they were born. Football is even more than just a game, it's their religion, and for those who ever played for Newcastle United, they are all their heroes.
Last night, the Geordies are celebrating the farewell game for one of the local hero, a loyal servant to Newcastle United and the last player from Sir John Hall's Geordies Nation era, the one and only Steve Harper.
What makes him so special in the eyes of the Toon Army is he's the perfect example of what the meaning of word loyalist is. He stays in the club even mostly just sitting on the bench during his long 20 years period as Toon player. He had his own war and stands for the club in good or bad situation, he defend his team mates when they're in such problem, and ready to help them when they needed any.
In todays world of professional players, I thought it's so hard to find another player with such high devotion to the club, willing to stay and playing when needed for the club, not only for the money.
In Steve Harper mind, where only few can understand, Newcastle United was always his number one as well as all the Toon Army who keep supporting the club no matter what. For that reason, Steve has urged the current owner to reward the club's long-suffering supporters.
"The fans are demanding, even under (Kevin) Keegan and Sir Bobby Robson, they'd get restless if you weren't winning at half-time, but all they really demand is you put a shift in," Steve said
"They are working class people who want to see players put in the same shift they do in the week to put money in their pockets."
Now, he's joining Premier League newcomers Hull City and will always get the warm welcome when he coming back to St. James' Park wearing the different shirt and playing in the opposite team. For how good he will become in his new team, you can place your bets at william hill[1], and I know he will be as good as he was while in Black-n-White.
Goodbye Steve and thanks for all you have done for the Magpies, you're legends now and always be our local hero no matter where you are.
Endnotes:
place your bets at william hill: http://sports.williamhill.com/
Source URL: https://www.magpieszone.com/what-makes-newcastle-united-so-special-according-to-steve-harper/
---