What is Wrong with Charles N'Zogbia
by shearyadi | April 15, 2008 12:41 am
Wise men ever said once that something which is started bad can be end-up bad. Maybe they have telling you the truth and in this case, I'm talking about Charles N'Zogbia and his future with Newcastle United.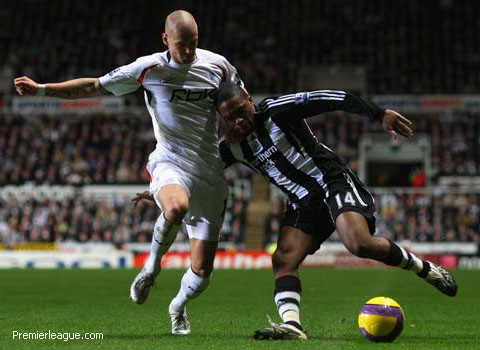 For most of the last recent weeks, there were plenty of new speculations about whether he will stay in Keegan's revolutionary program or he will be seeing the exit door in the summer this year. Charles still have three years left on his current contract with United and KK determined that if he does leave, there will be a good amount of money that can brought him out.
N'Zogbia signed with Newcastle from his previous club Le Havre where he starts his footballing career from their acasemy. His transfer history was not a smooth one. After a protracted saga involving the threat of a case at the Court of Arbitration for Sport, his transfer officially went through on September 2, 2004.
United have paid a compensation fee to Le Havre which was thought to be in the region of £250,000. His transfer to Newcastle was the last player to be signed by Sir Bobby Robson. Robson later said of him: "N'Zogbia could go to the very top with the right coaching and motivation, and I hope it is with Newcastle. I signed him as a teenager and he was one of the most naturally gifted players of that age I'd ever seen."
Later we have seen that Sir Bobby was right about his judgement and Charles quickly become great player after making his break to the first team squad. Although his natural position is a left-winger, under the previous manager he was playing often as left-back which he did it quite good.
As a young player, Zoggy was not entirely have a 'good' attitude. He has his first transfer request turned down in January, and long before that the United caretaker manager Nigel Pearson has dropped him from the substitutes' bench against Watford last season. Nigel said that N'Zogbia was more engrossed in his mobile phone than the team meeting he was in.
Recently, his Newcastle United team-mates has warn him to buck up his ideas or leave the club. Meanwhile, Kevin Keegan said He would like to keep him with Newcastle because he can be a tremendous asset for us. But to do so, he's got to be fully, fully, fully committed to Newcastle United.
And if he keep insisted to leave the club, Keegan has nothing to do but prepared to let the French Under-21 international go at the end of the season. Other premiership teams are lurking to catch him out from St. James's Park with Arsenal and Tottenham have been linked with the winger.
"Charles and his agent wanted to move him out of here and I wouldn't allow that. I said if he did his best until the end of the season and felt the same way, I would let him go – if he still wanted to go. But it would be on our terms." Keegan said.
Currently N'Zogbia now recovered from his knee injury and back in training with the rests of United squad. But Keegan insists he still have to learn to be a team player with his individual skill, and if he does it he will be a hell of an asset for us. But he has got to come into the team, to fight for his place by showing mature attitude, I believe Keegan is not blind and will give him his chance to play as soon as the time is right.
Source URL: https://www.magpieszone.com/what-is-wrong-with-charles-nzogbia/
---