What If Keegan Go For Peter Crouch
by Magpies | April 9, 2008 8:08 am
I think we could definitely get him if we wanted him. He doesn't start anywhere near enough games and I reckon he just wants to make sure that at his next club he can go there, play games and for once – be loved. Keegan would assure him of this.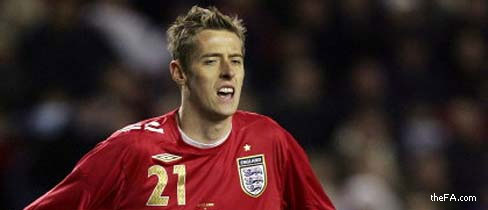 He doesn't strike me as a 'Keegan player'. But then again Keegan has praised Viduka to the rafters this week. Owen recently talked about Viduka's importance in getting him and Martins into the game.
Crouch is no Mark Viduka of old, but he is a lot better on the floor than people give him credit for and has a very good first touch. Given that he doesn't start many games his goal record is impressive and he appears to have a knack of scoring at vital times in the big games. I think he could come in for Viduka and do extremely well in the system that we're playing at the moment.
Keegan hasn't said that we will play this 4-3-3 system next season. But if we do I think Crouch would be the ideal person to replace Viduka. If we got him in we'd have cover if one of Viduka or Crouch were injured.
Assuming this was our default system, If One of Owen or Martins got injured Milner might just find a way back into the side. It seems to make a lot of sense to me. But part of me just can't imagine Keegan going for Crouch.
Source URL: https://www.magpieszone.com/what-if-keegan-go-for-peter-crouch/
---