Well Done 'Eddie' Says Keegan, Thanks Boss!
by shearyadi | April 5, 2008 1:12 pm
You know what, this is a complete happy week for me, first yesterday was my 'Officially' birthday, then Newcastle got wonderful deservedly wins today and then the title from the official site said, well done 'Eddie' and it was sounds similar to my first name!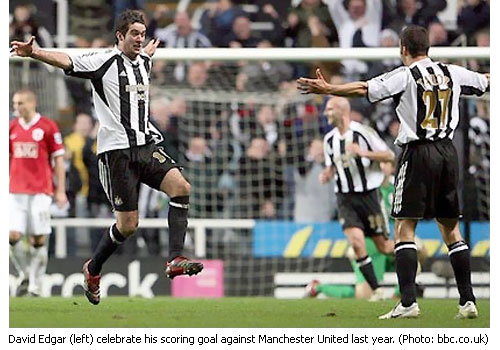 The title was actually given to our 20 year-old stand-in center back, David Edgar. He was playing today in the absence of Steven Taylor and he shows some good performance in the clean-sheet victory over Reading that has made Keegan praise him highly.
Keegan said when Tayls came in with a virus this morning, he founds there were no problems putting David Edgar in, and the reserves skipper payback Keegan's trust in him with a performance that KK describe as Franz Beckenbauer in his prime wouldn't have won.
"He's been terrific since I've been here. He's captained the Reserves, and I felt he deserved his chance."
Congratulations Edgar, you are the future of the Toon, as he even won a heaped praise from the Royal boss Steve Coppel for his performance today.
"This is another building-brick for Newcastle, and Kevin must be pleased with the performance of his team – and the young lad (David Edgar) at the back. Credit to them for getting a clean sheet today."
And for more reading pleasure, Keegan still wants his player to even more focus for our next trip to Fratton Park against Pompey next week. It could be another crucial game especially when we're looking at how they've been humiliated us in our own home ground.
Keegan also said that he didn't want to be known as the manager who got the lowest premier league points.United's lowest Premier League points total was 43, when we finished 13th last season.
"It would be nice if we can finish the season by continuing to play our football like we can, and send the people here away for their holidays and their breaks thinking: `Wow – next season could be very good for Newcastle United.'" Said Keegan, quoted from the official site.
Source URL: https://www.magpieszone.com/well-done-eddie-says-keegan-thanks-boss/
---