We Want Ballack and Terry In the Summer Please
by shearyadi | February 26, 2008 8:12 am
I have read an interesting news today about four Chelsea players are seems unhappy with their coach team selection on the last Carling Cup final against the North London rival Tottenham Hotspurs. The Blues side were beaten by 2-1.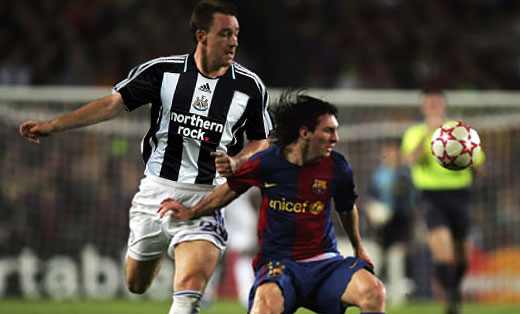 Claude Makelele, Joe Cole, Ashley Cole and Michael Ballack are reported to be seeking an explanation and were furious over Chelsea's manager Avram Grant's Carling Cup final team selection.
More salts on the wound, their skipper John Terry also said to had a pre-match bust-up with assistant manager Henk den Kate over not finding out whether he was playing or not until 2 hrs before kick-off.
Well, what happened to the team that was so victorious before while still under Mourinho these days? First they have Didier Drogba who said he was having big regret to join Samford Bridge's clowns and now after the Carling Cup defeat, several key players are also unhappy.
So, what's the point of their situation with Newcastle? As you know, we are having a good trackback record of signing ex-Chelsea players.
We have Babayaro, Geremi, Duff and Scott Parker all coming from the Blues. Now, with their situation at the moment, I'd love to see Michael Ballack and John Terry in black 'n white.
Source URL: https://www.magpieszone.com/we-want-ballack-and-terry-in-the-summer-please/
---