We Need the Right Men in the Right Place for Newcastle United
by shearyadi | October 16, 2010 1:31 pm
A breathtaking game for the Magpies today against the Latics. 2-2 as the final score is not the result that I wanted to but I can say that I'm relief that we can get a previous point out of this frustrating match.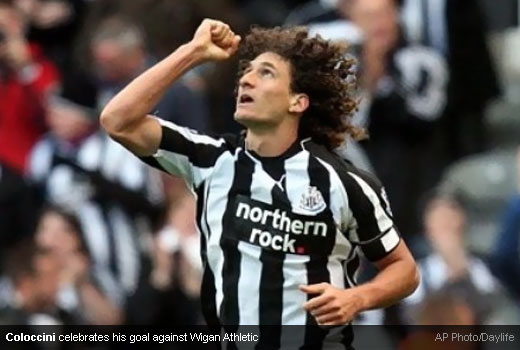 I can see the lads are in deep frustrations after conceded two goals from the former Newcastle United player that we used to cheer his name of, although I must admit he took it with the help from our own player, in this case that worst and worst James Perch.
I'm not the fan who make any judgement based on what I saw in one or two appearance, but Perch is draining my trust in him, from one game to another. He's always late to return back to his own position after taking part in any of our attack, in most of all Newcastle games this season.
I think it's the right time for Chris Hughton to put him on the bench and let somebody else to take his place and let him rates his own level of skills or join our reserves team where he (maybe) can sharpened his decent skill there.
Getting two goals down in first half, I almost give-up when I saw the lads are also looking helpless with some wrong passes and very little determination. I was also surprised to see Guthrie and Løvenkrands in the starting line-up.
I was thought CH will only include them in the bench, but to give them a start was not totally wrong decision. I think Hughton is giving them a game where they can get their touch back after being sidelined for long time.
In fact, Guthrie has couple of decent passing that almost lead Løvenkrands to his chance to put us back in the game in first half, but in second-half they both looks tired, and Hughton decision to take them both off to make way for Ameobi and Routledge was turning the table for us.
I also see the very minimum of decent services for our target men from both our wingers today. Gutierrez, beside making one excellent pass and a corner kick that leads to Ameobi and Coloccini goals, has a poor performance in my opinion.
Without Nolan, I think we are a little bit out of controll and no creation in midfield. Barton is playing too deep while Tioté is also not making any impact. Nothing special from Toon midfield today, that's the reason why we only get one point I guess.
But, I still would like to give my thanks to all the lads (except Perch) for their fighting spirit and hope for the next games they will improve and start making more goals. We deserve to stay in this league, Howay the Lads!!!
Source URL: https://www.magpieszone.com/we-need-the-right-men-in-the-right-place-for-newcastle-united/
---