We are sorry that you feel not safe anymore as a family
by shearyadi | September 14, 2008 2:15 pm
It was surprisingly quick move by Mike Ashley today just couple of hours after the first disaster that you or your Deputy of Football have done to this club. It was also more quicker than the last club statement regarding to Kevin Keegan status.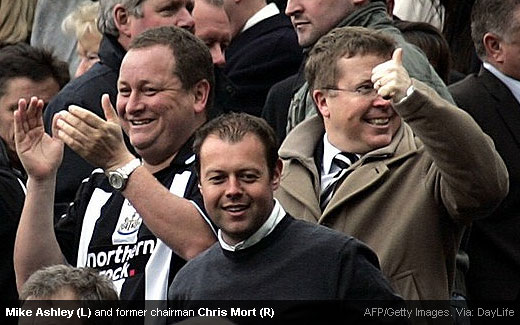 On the club official, Mike Ashley has make his statement[1] about his plan for the future of Newcastle United. In one side you want us to progress slowly, we don't mind that honestly, but to progress without decent backing for the club situation (i.e buying a decent left-back and Milner replacement) is not a good plan I think. That would make us relegated!
Here's what Mike said as quoted from his statement on the official site:
The fans want this process to happen more quickly and they want huge amounts spent in the transfer market so that the club can compete at the top table of European football now. I am not stupid and have listened to the fans. I have really loved taking my kids to the games, being next to them and all the fans. But I am now a dad who can't take his kids to a football game on a Saturday because I am advised that we would be assaulted. Therefore, I am no longer prepared to subsidise Newcastle United.
For God's sake! None of us want big names signing for the truth is Mr. Ashley, we want coverage, we want good replacement for Milner's position, we want a left-back! That was something that we really don't understand why your great scouting team cannot work for it?
I am prepared to back large signings for millions of pounds but for a player who is young and has their career in front of them and not for established players at the other end of their careers. There is no other workable way forward for Newcastle. It is in this regard that Dennis and his team have done a first class job in scouting for talent to secure the future of the club.
First class job in scouting? Once again, the future of this club is not in the hands of young players who are not ready to play in senior squad, and look at the team condition now, even against Hull we cannot win!
I am putting the club up for sale. I hope that the fans get what they want and that the next owner is someone who can lavish the amount of money on the club that the fans want.
Thank you very much for that, and I also hope the new owner will think more into building the strength to current squad while working on the youngsters in background, not like your reverse plan to make this club get relegated and then build it again with the "talented" youngsters that Dennis Wise and co has been first class scouted for Newcastle United.
Endnotes:
his statement: http://www.nufc.premiumtv.co.uk/page/NewsDetail/0,,10278~1392670,00.html
Source URL: https://www.magpieszone.com/we-are-sorry-that-you-feel-not-safe-anymore-as-a-family/
---