We Are Not Testing the Water or Anything Else
by shearyadi | May 24, 2008 3:13 am
If anyone would take this utterly nonsense and completely self-deluded journalism as real then they must test their brain. I also would like to send a warning to that scum journalist who wrote the article to go to the doctor immediately.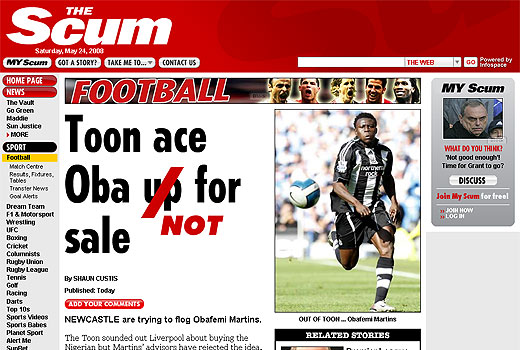 No wonder Keegan has ban all Newcastle United players to talk to any press after the Everton match, as those journalists would love to write them as a Toon insider. The Scum has made a report today that Oba's future in Newcastle is uncertain just because the new club policy to limited the player highest weekly wages only at £80,000 per-week.
They also write that new policy would be bad news for Michael Owen who has a £110,000 per-week deal with Toon. As Toon supporter, I don't buy that news or anything else regarding to current players wage cut. It was exhibiting a lack of wisdom if we sell two of our best players at the moment because of that.
Although the soon-be-gone United chairman Chris Mort, on his statement recently, said that Newcastle would not pay players ridiculous wages, that doesn't mean he will allowing any players who has done good to leave the club. I don't think Keegan would agree, and I do believe KK will fight to keep his players.
Both Oba and his advisors have recently rejecting any news about him leaving United. Martins said he like being a Toon player and would want to be involve in Keegan's next revolution this summer. Michael Owen, who will miss the chance to play for England because of illnes, is also like to start negotiation for the new contract with Newcastle.
Source URL: https://www.magpieszone.com/we-are-not-testing-the-water-or-anything-else/
---