Verdict from the Emirates, strange Newcastle team got beaten again
by Magpies | August 30, 2008 11:57 pm
Strange one. If we'd played like we did at OT against Manure we'd not have been outclassed. KK said before that game that he'd got the lads to believe that Manure weren't infallible and it worked.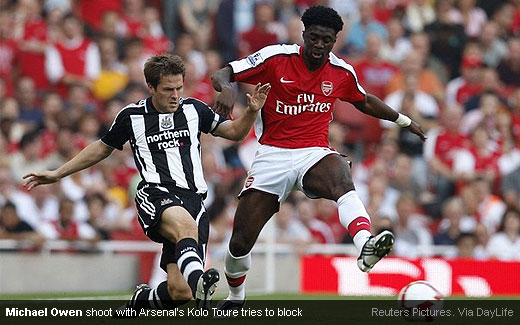 At the Emirates, we were flat footed, never really got going keeping the ball and overall were outclassed by Arse who were obviously stinging from the Fulham defeat plus had talisman Fabrigthingy back.
There were only glimpses of Arse pretty stuff yet each time it totally bamboozled us.
The harsh penalty – just one of a long string of Arse favouring decisions by Styles – HTF did we not get a corner when Almoony tipped that YMO header over before halftime? Plus several dubious freekicks given on edge of box. Penalty itself was superbly dispatched by that Percy character.
Combination of Guthrie leaving a runner and Enrique pulling his muscle causing us to be one short at the back. Clever back heel but come on guys why allow him to run so far. We were just getting back into game and the 3rd one killed us off. With a bit of luck Taylor might have blocked it.
So that three goals that (on a different day) might not have happened so I suppose we (and KK did) claim some bad luck. The fact that Arse missed 4 more and Shay made 3 or 4 top class saves means luck might not totally be he cause.
Overall too many players had an off day. Jonas put a good shift in (again) on the right. We were exposed on our left several times – Enriques 1st game for a while. Bassong did better when he came on – great hopes for him.
Taylor and Collocini were overrun at times. Butt or Guthrie never got into the game consistently. YMO looked rusty. Shola looked rusted up totally but kept trying (in an exception the one when he blocked Owen's goal – Ed.) while Zog was alwasy outnumbered with Barton came on and had a fun couple of minutes.
Overall a fair result I suppose and good evidence that we need a few extra bodies. Ashley over to you mate.
Source URL: https://www.magpieszone.com/verdict-from-the-emirates-strange-newcastle-team-got-beaten-again/
---