Toon, Toon, Black and White Army
by shearyadi | August 15, 2008 11:53 pm
We are mad, we are the most loyal supporters the world ever had! And that will always be the same through the years, now and forever and as quoted from what Keegan said in an interview with Times,
"But when you have been here like I have, you know the problems at this football club have never been the crowd, never been the passion of the people and the support of the club in the city. That has always been there through thick and thin, thin and thinner. It does not surprise me – although it always knocks you back – because this is Newcastle. The fans are top-rate and my job is to get a team that eventually matches them. It is a tough ask and we still have some way to go."
What a man he was! That was when the likes of Danny boy and Fabz watch 12,000 Toon Army come to St. James's Park on Wednesday to watch them on training under the pouring rain.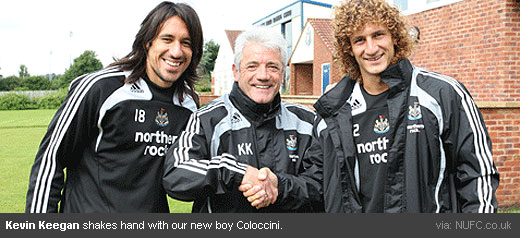 Keegan also speak (once again) that his relationships with everyone else at the club directors are never been closer than they are now. He said that everyone tried so hard to bring in new players this season and if the reality check is that there's only a few that finally come in, that's something beyond their power.
"Sends out a message – if we're going to fetch new players in, let them be quality" Keegan added.
But to speak the truth, the selling of Abdoulaye Faye to Stoke City last night has raised my eyebrows. Faye penning a three-year deal with the Potters. The 30-year-old signed from Bolton Wanderers in the last minutes of last year's August transfer deadline, and he also did leave the Toon exactly like the way he came.
Well, I only can say goodluck to him and thanks for all that he has done for Newcastle. In my opinion, he was one of the very rare Toon players that have been good last season.
Meanwhile, Jonas Gutierrez says he will do all he can to help Coloccini find his feet on Tyneside, "I am very happy that we have another Argentinean at Newcastle and I will do all I can to help him" He said as quoted from the official site.
Gutierrez also delighted that his Argentina team-mate finally signed with Newcastle United and will be looking forward to play together after for the last three seasons both have to fight each other in different team in Spanish La Liga.
"I know from playing against Fabricio in La Liga and as a team-mate for Argentina what a good player he is – I'm just happy we're on the same side all of the time now!," Guti told nufc.co.uk in an exclusive interview.
Source URL: https://www.magpieszone.com/toon-toon-black-and-white-army/
---