Toon number 9 legend has died at the age of 72
by shearyadi | August 28, 2008 1:22 pm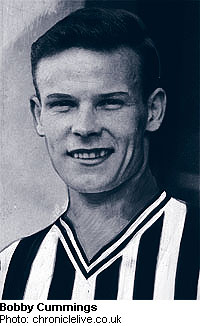 A deep condolence from the Magpies Zone and all contributors to all of the family of Toon great #9 Bobby Cummings who has died today at the age of 72. This news was coming from one of the author of this blog Sir Jonno.
Also include from Sir Jonno message, Cummings was a member of the 64/65 promotion winning team and scored 8 goals in 24 appearances in that campaign. His total was 14 in 44 games for the Magpies.
He was one of those heroes who tossed their shirts into the crowd from "the stand" (we only had one in those days!) to us adoring fans who had come onto the pitch after we beat Bolton 2-0 to secure promotion. Sad to see him go.
RIP Bobby Cummings…
More to read about Bobby Cummings: [1][1], [2][2].
Endnotes:
[1]: http://www.chroniclelive.co.uk/north-east-news/todays-evening-chronicle/2008/08/28/death-of-a-pitman-with-the-toon-in-his-blood-72703-21624951/
[2]: http://www.inthemadcrowd.co.uk/cgi-bin/itmc_view_person.asp?oid=165
Source URL: https://www.magpieszone.com/toon-number-9-legend-has-died-at-the-age-of-72/
---