Today in Toon History, 1952 Fa Cup Final
by shearyadi | May 3, 2008 7:18 am
Jorge Robledo single goal took United to be the first team in modern football to retain the FA Cup after Blackburn Rovers did 60 years before. Newcastle won the FA Cup two years in succession after a win against Arsenal in Wembley.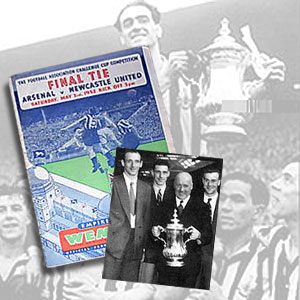 In the year that Arsenal had been one of the main runners in the Championship chase that season but only settle for third in the end. We had comparatively disappointing season and finished eighth despite scoring more than any other team with 98 goals.
Before the final match, both teams met at Highbury where a weakened Newcastle side satisfied with a 1-1 draw. Earlier in the season we had beaten them 2-0 at home.
United's best performers in the final game were coming from our back line where Harvey, Cowell, Brennan and McMichael did well to create the wall to held the opposite players to come any near or creating chances.
On the other half the herculean efforts from Arsenal players also did well to guard United's most feared strikeforce, Jackie Milburn, before Chilean-born Jorge Robledo score the only goal. United captain Joe Harvey receive the Cup from Winston Churchill.
Newcastle United road to Wembley 1951-1952
Round 3 vs Aston Villa 4-2
Round 4 vs Tottenham Hotspur 3-0
Round 5 vs Swansea Town 1-0
Quarter-Final vs Portsmouth 4-2
Semi-Final vs Blackburn Rovers 0-0, 2-1
Final Wembley, 3 May 1952
NEWCASTLE UNITED (0) 1 – ARSENAL (0) 0
Newcastle United :
Simpson – Cowell, McMichael, Harvey, Brennan, Eduardo Robledo, Walker, Foulkes, Milburn, Jorge Robledo, Mitchell.
Arsenal :
Swindin – Barnes, Smith, Forbes, Daniel, Mercer, Cox, Logie, Holton, Lishman, Roper.
Referee : A. Ellis.
Att: 100,000
Source URL: https://www.magpieszone.com/today-in-toon-history-1952-fa-cup-final/
---