The Green, Green Grass of Toon
by shearyadi | October 19, 2013 12:10 am
Newcastle United – great club, great fans and yet always seeming to lurch from one crisis to the next.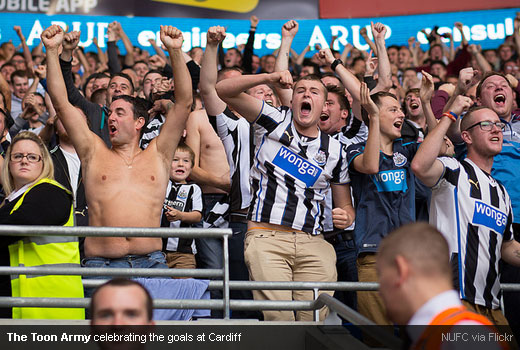 Even when they were blazing a Premiership trail a couple of seasons ago, qualifying for Europe and playing an expansive and attractive brand of football along the way, there were still people muttering about how hard an act that would be to follow and how Europe would put an unholy strain on the squad.
Both of which turned out to be true, as it happened. But when you look at things in the round, the grass of Toon is actually always greener and not on the other side of Tyneside.
The owner might not be well liked. But at least he's English. The man in charge of player recruitment might be universally derided[1], but things are even worse at Cardiff[2].
And however patchy the start to the season, it's oh so much better than Sunderland's. A glance at the odds tells you all you need to know about Newcastle's chances of winning the Premiership this season[3].
Yep, Newcastle are 2000-1. And yep, some on Tyneside would argue that those odds aren't long enough. But what would constitute a good season for Alan Pardew and his band of merry (mostly French) men?
Finishing above Sunderland should keep the most parochial fans happy. And that's an eminently achievable scenario. Sunderland might have acted swiftly to move on from the Di Canio debacle, but replacing him with Gus Poyet is a risky strategy. The Uruguayan is not dissimilar to the Italian. He splits opinions, isn't frightened to ruffle feathers and is more 'my way or the highway' than consensus-builder.
So with local bragging rights looking fairly secure, will a mid-table finish be good enough?
With the squad that Newcastle possess, the answer is probably no. Give Pardew a fully fit and firing first team and his side can beat pretty much anyone in the division. But they're a mercurial bunch likely to beat Man City one week and then lose to Palace the next.
It will be Pardew's task to instill some consistency and recreate the spirit of the 2011/12 campaign. Get anywhere close to it and a top ten finish is theirs to be had.
Europa League qualification? Unlikely
The Premiership looks like being a wild ride this season, with any one of six teams in with a chance of winning the title. Man City are the bookies' favourites, but Chelsea have the experience, the backbone and the depth of squad to come out on top. Those three attributes are what the current Toon squad lack.
If there really are six teams in with a shout of winning the Premiership, then it stands to reason that two of them will miss out on the Champions League places and will therefore slug it out for the Europa League spot.
Based on the season so far, those teams will most likely be Spurs, Liverpool and maybe even the suddenly vulnerable Manchester United.
Now what about Newcastle? A top eight finish, however, is well within their grasp. Throw in at least one decent cup run and that's a perfectly decent season in the eyes of most people.
Finish above Everton and it'll be a successful one. Get rid of Joe Kinnear along the way and it'll be a triumph.
And talking of recruitment, there will be another indicator of a successful Newcastle campaign this season involving keeping hold of certain players.
Cabaye, Ben Arfa, Sissoko, Gouffran, Remy – these are quality players. Fit, in-form and motivated, they could get into pretty much any team in the Premiership.
Holding onto them, and in Remy's case making the loan deal a permanent one, would go a long way to moving Newcastle from mid-table this season to top six the next.
Yes, the squad needs to be strengthened, especially at the back. But there's a quality core to it that should be cherished and supported and clung on to.
And then the grass truly will be greener on Tyneside.
Endnotes:
might be universally derided: http://metro.co.uk/2013/09/24/newcastle-director-of-football-joe-kinnear-mocked-in-missing-person-poster-4099650/
Cardiff: http://www.walesonline.co.uk/sport/football/football-news/cardiff-city-boss-malky-mackays-6158805
Newcastle's chances of winning the Premiership this season: http://football.betvictor.com/category/english-football/premier-league/
Source URL: https://www.magpieszone.com/the-green-green-grass-of-toon/
---