Shay will Given Up his loyalty for glory? I don't think so
by shearyadi | January 3, 2009 12:19 am
After 11 and half years as Newcastle United number one, the press are buzzing up about his retirements from the Black-and-White's Army. Nothing is certain, but to tell he's going to leave at this (what the paper say) "the very lowest point" on his career is something not very wise for his record.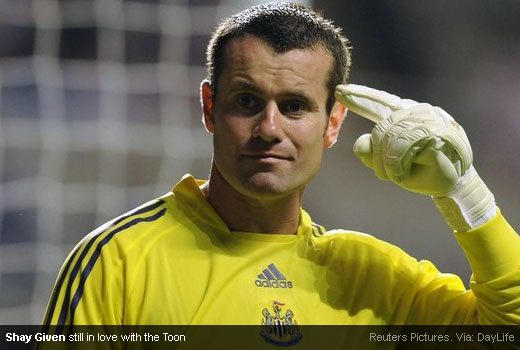 Although the news are saying Given's lawyer Michael Kennedy has took the unusual step of issuing a statement on his client's behalf, Joe Kinnear was refusing last night[1] that Shay Given wants to leave Tyneside.
Times reporting about Kinnear claimed that Given had told him yesterday morning that he wanted to remain at Newcastle and accused Kennedy of releasing the statement without his client's approval. Kinnear also said that he and Given has been discussed the future over a cup of coffee at Newcastle's training ground yesterday morning.
Also from the Times online, Kinnear said: "We actually rung the guy who made the statement and asked him why he put it out. He said he was aware that these clubs were interested in Shay. He told me that is what he read in the papers and he acted accordingly."
Acted accordingly? I think that Kennedy 'acted accordingly' was because there were potentially big cash on his pocket if Shay is actually leaving Tyneside to any of three clubs that are said to be interested on him. I would place a bet on this with my Bet365 bonus code found on the web.
Manchester City, Arsenal and Tottenham are those three clubs that being linked with Shay if he does leave. But, Arsene Wenger has said he's not going to buy a new goalkeeper on January transfer window.
Meanwhile, United will travel to Hull City for today's FA Cup Third Round clash with a good record at third stage of the competition during Newcastle's Premier League years. The Magpies have only lost just one Third Round tie since returning to the top flight in 1993.
Endnotes:
Joe Kinnear was refusing last night: http://www.thetimes.co.uk/tto/sport/football/footballleague/article2315636.ece
Source URL: https://www.magpieszone.com/shay-will-given-up-his-loyalty-for-glory-i-dont-think-so/
---