Rob has no Styles at all to stay on the Premiership referees list
by shearyadi | October 21, 2008 12:28 am
You may say that I write that just because I'm a Newcastle fan or have seen the way he treated my club last night but you may also ask Liverpool supporters or Bolton manager Gary Megson of what they think about Mr. Rob.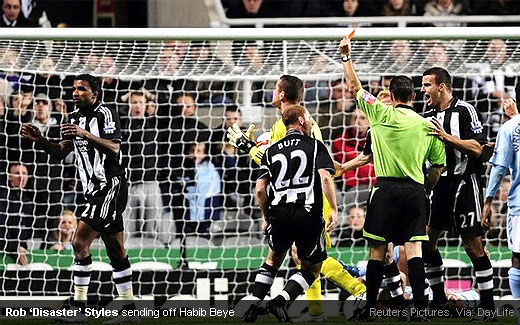 He only knows how to 'rob' the game out of certain club favour rather than keeping the game in style for a clean match or decent fixture result. If I was JK, I would be screaming more than 52 'F**K' words to him after the game last night.
His red card for a 'very' clean tackle by Habib Beye against Robinho last night was another addition to his very poor records as Premiership referee. Everyone (except to those from Citeh side) who saw last night game will be questioning his decision to give the penalty and further more, a red card for Beye.
The only person who thought it was the correct decision was Graham Poll, a man who is unable to count to two with any degree of accuracy, if you can remember that, and several others dodgy decision he made.
It was his 'styles' to add disaster to the beauty of the game, he's also the one who gives Manchester United a laughable penalty against Bolton a few weeks ago.
He was even been suspended from any activity as the referee for any Premierships fixtures last year after awarding Chelsea another joke penalty and causing great confusion by appearing to show three yellow cards to Michael Essien, no wonder Graham Poll loves this man.
And from the soccerbase website, they will show another good example of how Mr. Styles has issued no less than fifteen red cards last season, the highest number than any other Premiership referees.
Source URL: https://www.magpieszone.com/rob-has-no-styles-at-all-to-stay-on-the-premiership-referees-list/
---