Nigerians Want Martins To Quit Newcastle
by shearyadi | April 22, 2008 4:00 am
That's rather shocking news if it's real one. In an article from leadershipnigeria.com Obafemi Akinwunmi Martins has told about receiving several calls in daily basis from his fans in Nigeria, asking him to quit Newcastle United and join a bigger club in the Premier League.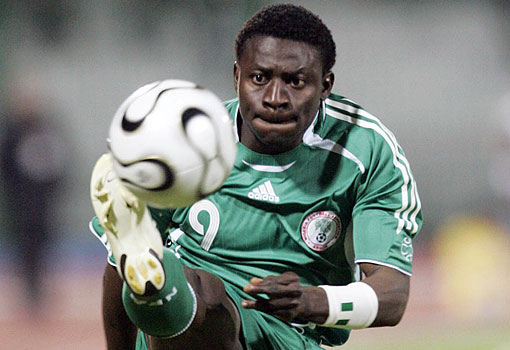 However, Martins later on quickly reveal he is battling with pressures from his loved ones, who would rather prefer him playing for a top side like Arsenal, Chelsea or Manchester United. Martins also said the fans wanting him to quit because United was not playing in the Champions League.
"Most Nigerians support Arsenal, Chelsea, Manchester United or Liverpool. You cannot imagine how they are disturbing me," Martins said but he is ready to stick things out and stay with Newcastle who has offering him a new contract with an improvement of 90-pounds-a-week wages.
Oba has scores 9 goals so far this season for United in all competitions, and seems to enjoy Keegan's three-pronged attack system that gives him and Owen more of free role position in Newcastle's 4-3-3 attacking scenario.
For me, if Oba decided to stay and ends his career with Newcastle, he will have the Champions League games not very long again. I also believe he will have more scoring chance next season rather than what he will get if he join those big-four clubs. With Newcastle, he will have the first team place every week for sure.
Meanwhile, today's Toon transfer rumour mentioning the name of Athletic Bilbao £16m-rated 23-year-old centre-back Fernando Amorebieta. Other speculations are also including an interest from the Kop's gaffer Rafa Benitez to sign Steve Harper in a possible exchange with Dutch hit man Dirk Kuyt.
The Journal claims that the Magpies was in the lead to bring Venezuelan-born star to St. James' Park despite numerous interest from other premier league clubs including Liverpool, Manchester United and Chelsea.
But the Basque Press write that Amorebieta has no immediate intention to end his contract with Bilbao which runs until 2011.
"The speculation is positive but it is not really in my plans to leave Bilbao," said Amorebieta, "My future is here and I want to progress as a player. I have heard rumours since last summer but nobody has formally contacted my club."
Source URL: https://www.magpieszone.com/nigerians-want-martins-to-quit-newcastle/
---