Newcastle's new kit 2013-2014
by shearyadi | July 31, 2013 3:15 pm
Newcastle United's new kit has just been released and already caused trouble.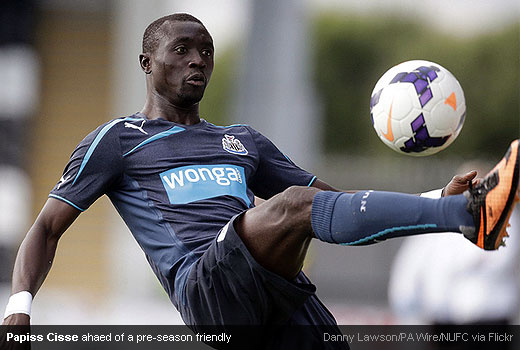 All in all the style of the shirt is nice to look at and quite popular given the fact that the new Puma King 13-14 template has also been used for other football clubs like Feyenoord or Dortmund.
The real reason for the problem was actually the club's sponsorship with Wonga and the logo on the shirt. The Senegalese player Cisse has refused to play in a shirt that promotes a controversial money-lending company.
But the question was never to cancel the contract with Wonga which is worth around £8 million a year. So after discussions, thoughts and reflections Cisse has been convinced to accept the fact and keeps on playing for Newcastle United. With the help of the Bet365 promo code fans can bet on his performance in the next season.
And during his first appearance in the new outfit Cisse even managed to score after 19 minutes in the friendly pre-season game against the Scottish team St Mirren. Afterwards the Senegalese player has stressed that "Now I think it is important for the team and the fans that we concentrate 100 per cent on football." So we can wait in suspense for the outcome of the first match against Manchester City[1] on the 19th of August.
Endnotes:
first match against Manchester City: http://www.premierleague.com/en-gb/matchday/matches/2013-2014/epl.tv-radio.html/man-city-vs-newcastle
Source URL: https://www.magpieszone.com/newcastles-new-kit-2013-2014/
---