Newcastle United vs Wigan Athletic match review
by Magpies | October 23, 2011 12:11 am
In the 1st half Wigan stopped us playing through central midfield with Cabaye and Tiote constantly outnumbered. This is not the first time we've experienced this problem and it certainly won't be the last because teams now realise how key Cabaye & Tiote are to our game.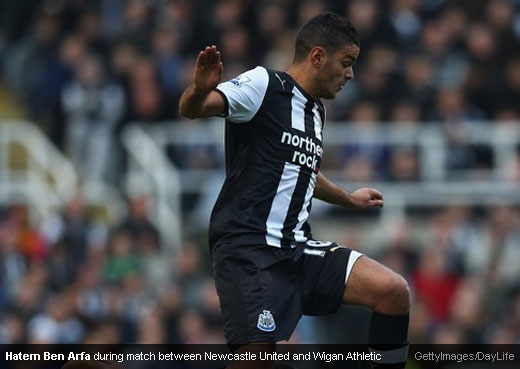 Alan Pardew told Ba to drop deeper to assist, but as v Spurs last week he showed he is incapable of doing that effectively. At half time Pardew took off Best and replaced him with Hatem Ben Arfa in a further effort solve this problem.
While not entirely successful, this did improve matters as one of Wigan's midfield three had to pick up Ben Arfa as he was playing deep, giving Cabaye & Tiote a little more time and space. He is still rather off the pace, and gave the ball away too often, but his presence was a threat that Wigan couldn't ignore.
Despite getting more of a grip in midfield, we still weren't creating clearcut chances and Wigan's defenders were dominating Ba, now playing up front on his own. So, Shola was brought on for Ba.
Unfortunately, this Shola was 'regular Shola' rather than the 'super-Shola' that came on last week. Nevertheless, he was more of a physical threat than Ba had been.
Pardew's final move was to mercifully replace Obertan with Marveaux. The former's confidence visibly drained away today as he turned over possession time and time again, and he was starting to get stick from the crowd.
Marveaux showed some nice touches, linking well with Ben Arfa and Cabaye, and played the ball square for Cabaye to strike a gem from the edge of the area into the far top corner.
Not a great performance, but not a bad one either imho. Wigan deserve a lot of credit, and were certainly the better team in the 1st half. They worked hard to stop us playing if rather over-physically at times.
I thought Pardew's changes were well thought out and each one brought about improvements. However, it seems to me we've reached the point where some reassessment is needed.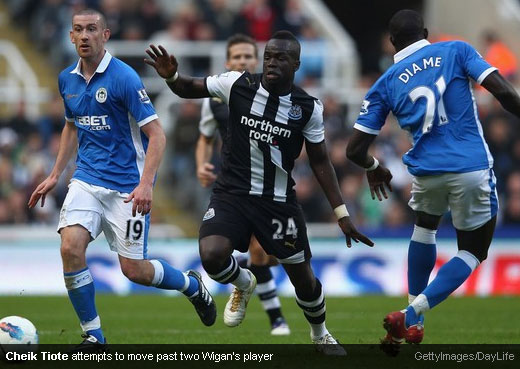 Two big strikers and only two in central midfield will not always work in the Premier League. Cabaye & Tiote are bearing too much of the workload in this formation and will eventually run out of steam (or get injured).
Krul made one excellent save early on, and was then largely unemployed. I don't know what Alan Pardew said to Simpson at the break, but he had a barn-storming 2nd half. Top man for me once again was Colo, although Steven Taylor also did well.
Source URL: https://www.magpieszone.com/newcastle-united-vs-wigan-athletic-match-review/
---