Newcastle United v Atromitos Athens – Europa League Play-Off
by Magpies | August 30, 2012 11:16 pm
I thought our squad players did really well, or as a team they did. Tavernier, Gosling, Bigerman, Obertan, Vuckic, Marveaux are never first choice players, yet all played for a chunk of the match.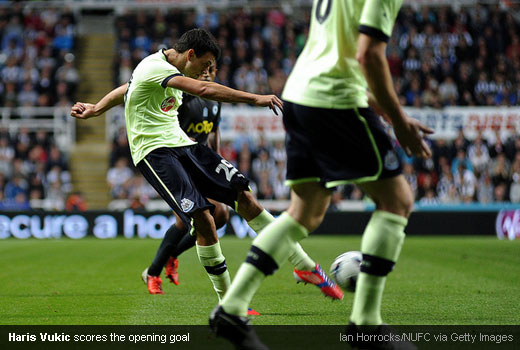 At the moment none of them particularly look like being first choice players. That three of them are 20 or under, have 2 Premier League starts between them is great.
They have a huge opportunity to get pitch time, against foreign opposition, with decent crowds to play in front of. The alternative is lending them out, or them getting their experience playing behind closed doors reserves games.
We have to use this opportunity to improve the young players, or else find cash from somewhere to perpetually buy. Gosling is a disappointment, looked slow, doesn't have anything special about him. If he is to get even bench time he has to do more.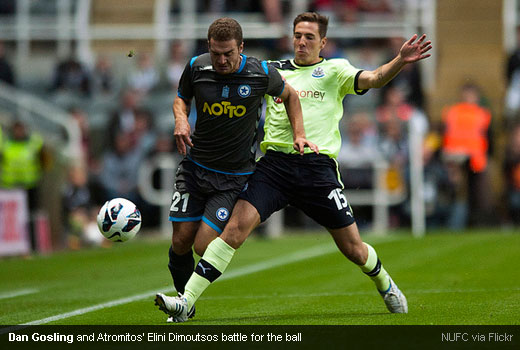 Vuckic looks bright, looks like an athlete, may well be the part. Still just 19 and has more potential than those who have written him off as injury prone already.
Bigirimana has the potential to be a lovely player, and also the potential to be a boo-boy target. He just seems to want to play that defensive midfield role. That's great, but it will lead to criticism of him for not seeming to "do something". Of all the players who have played he is the one I'd hope gets the regular Europa League pick.
Last week Tavernier was caught out by the ball over his shoulder. Simpson showed the same weakness, which probably means Tavernier isn't good enough.
If I'd never seen either of the games I wouldn't have missed much, but we now have to use the league games to further push these young players. I'd expect Ferguson and Sammy to both be involved too.
Source URL: https://www.magpieszone.com/newcastle-united-v-atromitos-athens-europa-league-play-off/
---