Newcastle United Team Up With British Red Cross To Help Young People Save Lives
by shearyadi | October 9, 2010 3:21 am
British Red Cross launches campaign to improve first aid skills of young people.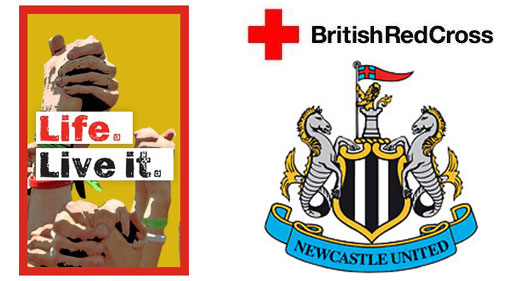 The British Red Cross is today offering 11-16 year olds the chance to a win a sports first aid session with Premier League football club Newcastle United as the charity launches a campaign to help young people learn how to cope in a crisis.
Life. Live it. is a campaign from the British Red Cross aiming to make young people across the UK more prepared to react to emergency situations – from sporting injuries, to asthma attacks or diabetic emergencies.
The campaign launches as it emerges that nine in 10 (89%) 11-16 year olds have found themselves having to cope in a crisis, with:
1 in 4 having to cope with someone having an asthma attack (27%)
1 in 3 having to deal with a head injury (33%)
1 in 5 having to help someone choking (18%
1 in 10 having to cope with someone having an epileptic fit (9%)
When asked what actions they took in response to these situations, 44% said they panicked and 46% said they didn't know what to do. Almost all (97%) 11-16 year olds would welcome first aid education and believe it would improve their confidence, skills and willingness to act in a crisis.
Winning a 'Live Session' to learn about sports injuries with Newcastle United is the first in a series of money can't buy experiences in sport, fashion, dance and music that young people will be able to win as part of the Life. Live it. campaign.
Young people are encouraged to log on to the campaign's dedicated facebook page to enter the competition, available at www.facebook.com/lifeliveitnow[1]
The charity is partnering with the likes of Premier football clubs Newcastle and Birmingham City to inspire young people to learn first aid.
The Clothes Show Live, urban youth festival Relentless NASS, international dance act Blaze and hip-hip group N-Dubz have also pledged support for the campaign. As N-Dubz singers Tulisa and Fazer explain,
"We're fully behind the Life. Live it. campaign from British Red Cross. It's easy to panic if you find yourself in a situation where someone close to you has hurt themselves or their safety is in danger. But it's so important to look out for your mates – just having the confidence to step in to help them out and knowing a bit of basic first aid could, in some situations, help save their life."
The campaign centres around an online hub which will include daily updates, advice, details of upcoming competitions and monthly challenges for young people to test their life-saving knowledge, available at www.redcross.org.uk/lifeliveitnow[2]
As part of the world's largest first aid training and education organisation, the British Red Cross is committed to helping people in a crisis. Joe Mulligan, first aid expert at the British Red Cross, added:
"Our aim is that all young people and children in the UK have the opportunity to learn first aid skills, helping them to cope in a crisis, whether that's a friend having an asthma attack or an accident when having a kick about with friends. Being able to immediately help someone will reduce pain, minimise distress and speed up the recovery process – and it's not as difficult as you might think, knowing just a few basic rules can make a huge difference in a crisis situation. There are numerous examples of this in football – just last week Man Ustar Antonio Valencia broke his ankle on the pitch and Newcastle's own Alan Smith had a nasty injury a few years go – and in both cases first aid played a crucial role."
Newcastle United Manager Chris Hughton comments,
"We're delighted to be working with British Red Cross to help young people learn skills that will benefit them throughout their lives. Most sportsmen and women will injure themselves at some point and we believe it's vital that young people, whether they play football for fun or are hoping to enter the sport professionally, have the ability and confidence to respond in the event of an emergency."
Almost all (97%) 11-16 year olds would welcome first aid education and believe it would improve their confidence, skills and willingness to act in a crisis. For more information or to enter the competition, log on to www.redcross.org.uk/lifeliveitnow[2]
Endnotes:
www.facebook.com/lifeliveitnow: http://www.facebook.com/lifeliveitnow/
www.redcross.org.uk/lifeliveitnow: http://www.redcross.org.uk/lifeliveitnow
Source URL: https://www.magpieszone.com/newcastle-united-team-up-with-british-red-cross-to-help-young-people-save-lives/
---