Newcastle United Score the First Win Under Alan Pardew
by shearyadi | December 12, 2010 8:29 am
I am happy but in the same time still regret it that Alan Pardew's first date with the Toon yesterday against Liverpool gives us the first win against them in the last four league meetings, also denied their three successive wins at St James' Park. For us it was our 30th win against them in league games at St. James' Park.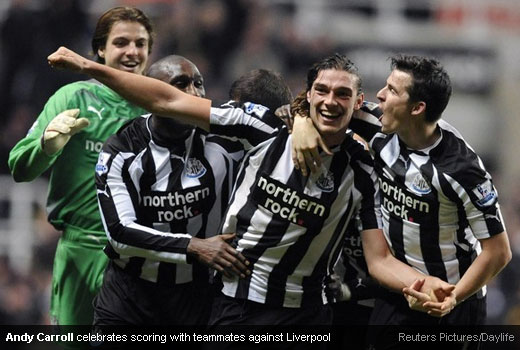 I am happy because Newcastle won, but I regret it because Chris Hughton was not in charge on that day. Do I really hate Alan Pardew? I can't say yes but can't say no either, I'm still need more time before I can make my official statement about Pardew's 'managerial experience'.
During Chris Hughton's early days as Toon manager, I also not making any judgement about him, in fact because of my very tight schedules, this website has been retired almost the entire season when we're playing in championships.
But I adore him so much and he's almost like our second messiah, he saves us from sinking more deep when we were relegated in 2008/2009 season. I'm still devastated by Ashley's rude decision to dump Hughton.
From what I saw on yesterday's game, I'm still not seeing any difference to the way we play under AP. I didn't see any improvement or changes in whatsoever, we still using Carroll as our main target, and Nolan's first goal was any prove of it.
I know that the team that we play against is Liverpool, they have more talented individuals with good skill, but I still think of the Arsenal's game or when we play against Chelsea as far better than yesterday's game. Pardew still had to work hard to produce his 'managerial skill' into reality.
Now, all I can do is hope that AP can prove us all wrong about him. I'm still waiting for his managerial experience to transform this team into the more better side than what Hughton has did this far.
Until then, thanks for coming to this site and Howay the Lads!!!
Source URL: https://www.magpieszone.com/newcastle-united-score-the-first-win-under-alan-pardew/
---