Newcastle United robbed again in another late injury time equaliser
by Magpies | December 23, 2011 8:36 am
Despite a rather disappointing conclusion, this was a cracking football match between two comitted teams that gave every drop of energy to the cause. I don't think I've ever seen so many players of both teams dropping to the ground in sheer exhaustion at the final whistle.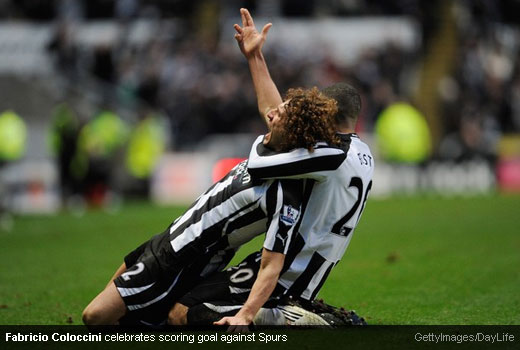 Four points dropped to extra time equalisers this week is, of course, immensely disappointing, but I couldn't criticise the performance today – and while we might have just about edged it, Spurs are a good team these days and a draw was possibly the correct result.
We worked our socks off seeking to contain Spurs passing game, and to a large degree we succeeded. My concern was always that we might not last the full 90mins – and I think this is perhaps what killed us at the finish. Our midfield was treading water during the last 10 mins, and to Spurs credit they kept going to the end.
Despite the incredible work rate, we still have a tendency to give the ball away cheaply too often, and against a team like Spurs you expend buckets of energy getting it back. 2nd goal would have killed the game, but we perhaps went rather too gung-ho for it, and paid the penalty. Having said that we had 2 or 3 terrific chances to seal the win, with Lovenkrands and Ranger missing good opportunities late on.
We defended pretty well with Williamson, Colo and Enrique having terrific games. Colo's goal resulted from a brilliant crossfield pass from Guthrie that he controlled on his chest, brought it inside his marker and planted it in at the far post. Shearer himself would have been proud of that one.
Simpson did ok, but he still gives his winger a few yards too much space in which to run at him. He could learn a lot in this regard from Jose, who gets tight to his man, and quickly, and rarely gives him a chance to run at him.
When going forward Simpson infuriatingly brings the ball back onto his weaker left foot to cross. I think this is a lack of self-confidence in his ability to go outside the full back. Harper made 2 or 3 excellent saves at critical times.
Best & Shola both worked hard, and supported the midfield as necessary. They both had a couple of half chances but didn't quite have the quality to put them away. Best did really well to stretch to reach one terrific cross from Jonas, but his cross shot hit the bar.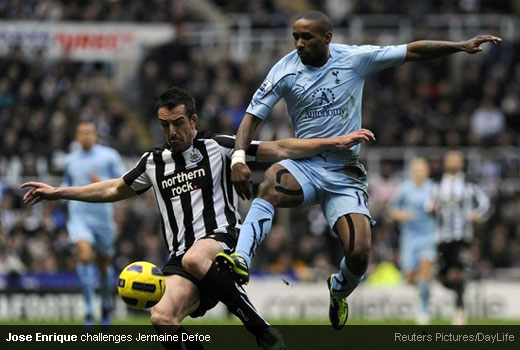 After a fairly even 1st half, we got on top in the 2nd. After scoring we kept going forward for the 2nd goal, but as we visibly tired Spurs came into the game more and more.
It became a bit of a seige during the final 10 mins or so, and unfortunately the equaliser came when Simpson allowed Lennon to come inside onto his stronger right foot. Lennon had been switched to the right after making no impression whatsoever on Enrique.
A very watchable game of end-to-end football, played to two totally committed, well-matched teams – spoiled only by the repeated simulation of a couple of the Spurs players, particularly Van der Vaart who quite frankly is a disgrace to the game.
Mark Halsey refereed the game very well, but sadly failed to book the Dutch cheat for his pathetic acting, and also allowed him to walk away scott-free after viciously hacking down Joey Barton.
PS: we really missed Chiek Tiote again today.
Source URL: https://www.magpieszone.com/newcastle-united-robbed-again-in-another-late-injury-time-equaliser/
---