Newcastle United MAGnificent performance demolished The Gunners
by shearyadi | November 7, 2010 11:10 am
Football is really a strange game to watch, sometimes it makes you cry not only when your team got beaten but also when they are the winning side. I was in a little of tears today after watching how good we are against the team that often called one of the Big Four.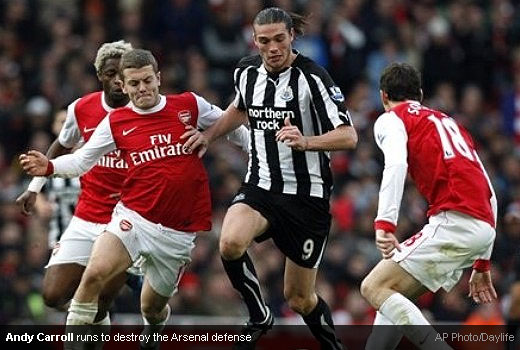 They are surely the bigger team in terms of their achievements in domestic league in the past couple years, and also have couple of Premier League titles written under their name, but today they are the loser against newly promoted but high quality team, Newcastle United.
I'm pretty sure that before the starting of the game, many of the Gunner fans are predicting another big win against us just like when they dumped us in Carling Cup 4th round, but they have to facing a humiliation by the "real" Newcastle team.
And if they said that we were lucky today, I agree. Football needs luck beside skill and determination which are the things that only can be seen in United team today, and that team was Newcastle United.
To be honest, during the game in almost 90 minutes, I keep holding my breath, my arms and feet turns cold and keep praying and praying for the eleven Newcastle players who fought like a wounded lion today.
I'm proud, really proud of them all. This is the best performance that I've watch this season so far. More satisfying than the 6-0 win against Aston Villa, and even emulate the last Sunday's match against the mackems.
My biggest credits and appreciation was given to our manager Chris Hughton for his hard work to create, develop and motivated the Newcastle team into what we saw today. He's really deserve more attention from the Toon management, and give him a better contract…immediately!
Until next time, and thanks for your visit to this site. Howay the Lads!!!
Source URL: https://www.magpieszone.com/newcastle-united-magnificent-performance-demolished-the-gunners/
---