Newcastle United looking very good on the season opening match
by shearyadi | August 17, 2008 2:06 pm
To be honest, I was a little bit of scared before the kick-off. Compares to them, we are the small David against the Goliath today but the smartest side "won" the game, and Newcastle surely deserve more than that.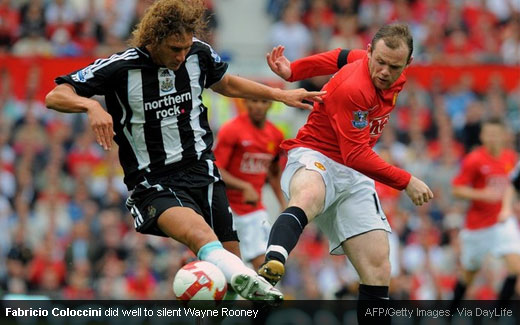 Keegan handed a full Premierships debut to all of our three new signing this season. With Jonas Gutierrez and Danny Guthrie have tasted the pre-season matches before today, it was Fabrizio Coloccini who is still "virgin" in Black-and-Whites but he did very well to make Wayne Rooney invisible most of the game.
The host can make some excuses about the missing of some of their first team squad, with Ronaldo and Tevez both out of starting line-up, but still they are a bit the better team in general than Newcastle United team, but we have a slight of advantage today which is luck and team spirit.
Luck? Yes, I must admitted that we have some good luck today despite we did playing very good. Shay did a marvelous "lucky" save when he head out a close range effort from Fraizer Campbell on eight minutes.
Then his double saves when Rooney give in a powerful shot before Paul Scholes rebounded in 15 minutes. This time they are super save in my opinion, and a good sign from Given that he may have found his very best back again.
What about us? We did pretty well in the first-half with Coloccini providing more confidence in our back four, and Jonas Gutierrez proven as he really deserve to wear the nickname "Spiderman". Guti was so quick in attack and very tough when in defensive duty, and i think we have found a jewel in a rough on him.
And in the 18 minutes, we have a first corner of the game when Martins' cross on the left deflected by Vidic. The first corner went disappointed, but 4 minutes later we have another flag kick in hand.
This time, Guthrie's ball flying good and it's Taylor volley deflected behind for another corner. Guthire crosses the ball in high to meet Oba Martins head who out-jump everyone inside the penalty area to give the Geordies the lead – and you must know what happen next to the Toon Army :).
But the lead also resulting an injury to Steven Taylor who picking up a knock and the home side took one man advantage to get back in the game just two minutes later through Darren Fletcher. That should not be happening if Taylor still playing or NZogbia arriving on time to cover the cross from Ryan Giggs.
That's it for the first-half as we keep the possession as long as we can into the end. And in the second-half with no changes on the Toon side, we keep playing the ball around and try to steal the game in a counter attack.
Although the host now keep pushing us to the edge, we are responding well and give them some serious counter attacking to think about. The moment when Gutierrez received a good ball pass from our defence and rouse up until the opposite half, it took a decent tackle from Vidic to stop him, excellent move from Spiderman.
All in all, a very good performance from the Toon lads as we did control the game in the second half smartly. In fact Martins could win this for Newcastle if his glancing header found the target from another Guthrie flag-kick.
Bring on Bolton!!!
Manchester United:
Van der Sar, Evra, Ferdinand, Brown, Vidic, Giggs (Possebon 63), Carrick (O'Shea 25), Fletcher, Campbell (Rafael 79), Scholes, Rooney.
Subs: Gary Neville, Jonathan Evans, Darron Gibson, Tomasz Kusczak
Newcastle United:
Given, Beye, Coloccini, Taylor, N'Zogbia, Milner, Butt (c), Guthrie, Gutierrez, Duff, Martins.
Subs: Steve Harper, Jose Enrique, Geremi, Alan Smith, David Edgar, Sebastien Bassong, Ryan Donaldson
Ref: Mike Riley
Crowd: 75,512
Source URL: https://www.magpieszone.com/newcastle-united-looking-very-good-on-the-season-opening-match/
---