Newcastle United looking extremely comfortable against Arsenal
by Magpies | November 8, 2010 3:32 am
Last weekends result was magnificent and obviously had added importance for the simple fact that the alternative of losing would have been unbearable. But as others have said this was by far the better result.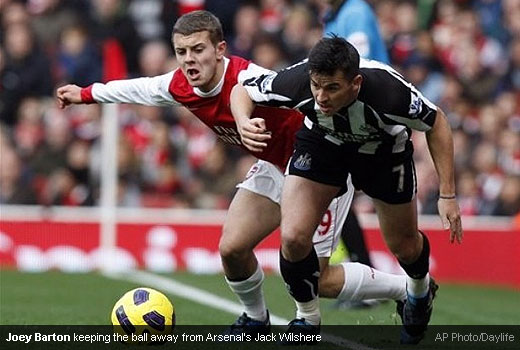 After a spirited comeback against Wigan at home, we've won 3 premiership games in a row. Simply fantastic. This run shows just how important a point like that at home can be, even though at the time we were questioning whether coming back at home vs Wigan to scrape a draw was something to celebrate.
What pleases me most is that I've just seen something I don't recall seeing for all the time I've supported the toon. Newcastle United being 0-1 up against a good side away from home and looking comfortable, forget that, extremely comfortable precisely.
At 0-1 up away at Arsenal I expect it to be desperate. At times, I wondered why Carroll and Shola were just sauntering around upfront when Arsenal had the ball. Part of me wanted Carroll and Shola to be running around like headless chickens trying to pressure Arsenal when they had the ball in their own half.
But we refused to do so. The confidence in our performance was almost arrogant. Our whole performance at 0-1 up reaked of "Come on then… show us what you've got?"
We very calmly let them come forward and then dealt with whatever they came up with. The marking in midfield from Tiote and co was exceptional.
The calmness to our approach, for which CH deserves full credit, meant that when we won the ball back we had options and tried to play football. Arsenal had to foul us to get the ball back. Whilst we went forward a loss less times than they did in the second half, when we did we looked just as dangerous and just as likely to score.
One of the most pleasing performances I have ever witnessed.
Source URL: https://www.magpieszone.com/newcastle-united-looking-extremely-comfortable-against-arsenal/
---