Newcastle United look for Kuqi positives
by Magpies | February 11, 2011 8:34 pm
Newcastle have signed Finnish striker Shefki Kuqi on a free transfer after losing main striker Andy Carroll to Liverpool.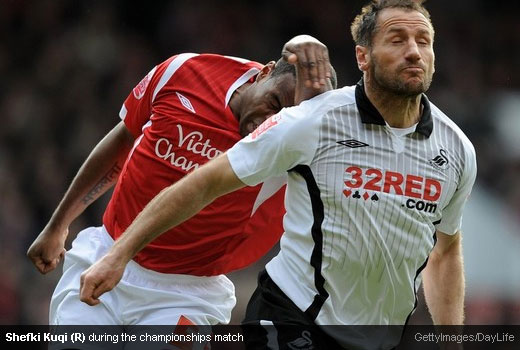 The transfer deadline day departure of Carroll left a hole in Newcastle's line-up, and without sufficient time to secure a replacement, the Magpies were forced to look at the free-transfer market after the main window had shut.
Carroll's absence was barely noticeable after Cheik Tioté's late goal secured one of the greatest comebacks in modern football. To suggest they were sports betting[1] underdogs is an understatement. Having found themselves 4-0 down after just 30 minutes, the home side pulled the game back to 4-4. Manager Alan Pardew will hope the game is the full stop to end the Andy Carroll saga.
The former, Ipswich, Crystal Palace striker had his contract with Swansea terminated last month and will now provide temporary cover for the remainder of the season until the club can use the money from the sale of Carroll in the summer.
The signing of Kuqi caused some disbelief amongst the St. James's faithful, and while supporters would have preferred a marque signing to signal the clubs intent, it will perhaps prove to be a blessing in disguise that they were unable to complete a deal by the end of January.
With inflated prices and desperate clubs eager to do business, January is a dangerous time to do business, especially the chaotic final day of the window. Newcastle could well have spent the majority of the fee they received for Carroll on an over-priced striker and wasted the opportunity to improve the team.
That Pardew will have to wait until the summer to do business may help him asses his targets more closely and aid him get the right man for the job.
The worry is that without Carroll's goals and presence the team will suffer but if the second half performance against Arsenal is anything to go by, then the club will be easily clear of the relegation zone and the building process can begin in earnest next season.
The first season back in the Premier League always has to be about survival, nothing more. Early season sportsbook[2] suggested that Newcastle were one of the favourites for the drop, but after a tumultuous season the club are still on course for a mid-table finish.
Kuqi is no mug, either. Somewhat of a journeyman, he has a presence that impressed Crystal palace enough to spend just under £3 million on him and he will be good cover for Shola Ameobi, who has been ruled out with a cheek injury. In the free transfer market, he was the best of a bad lot.
The Finn with a famous celebration isn't a replacement for Andy Carroll – that will happen in the summer. But if Kuqi can grab a goal or two for Newcastle's cause in the meantime, then his short-term loan will have been worth it.
Endnotes:
sports betting: http://www.sbgglobal.com/sports-betting/
sportsbook: http://www.sbgglobal.com/
Source URL: https://www.magpieszone.com/newcastle-united-look-for-kuqi-positives/
---