Newcastle United got help from the Best
by shearyadi | August 28, 2011 4:15 pm
While the visiting team has tasted the European soil before today's meeting with Newcastle today, the result seems to show that we're also should be there next season.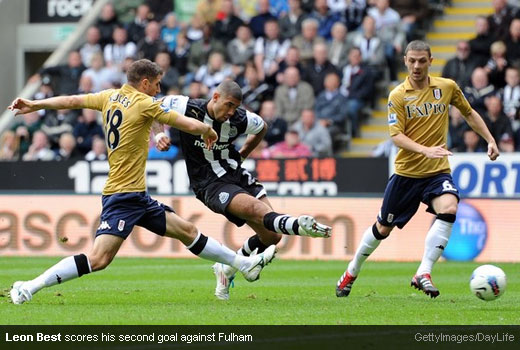 Without Ameobi who has a slight injury, AP recalled Leon Best to partnered with Peter Lovenkrands as United front men. Obertan filled the empty slot on the right wing where used to have Barton to fill in. And from my point of view, he's done a very good job there and I believe soon he can exceed his successor.
In central midfield, Tiote is return after being off on last Thursday's Carling Cup fixture. He's joining force with Yohan Cabaye, who start to look like a fresh Kevin Nolan and he commanding the area quite well, particularly in the second half.
The first 10-20 minutes, it was the visitors who have the control and we are responded very well in defense, with skipper Colo and Taylor both stands tall against the impressive American center forward, Clint Dempsey.
They have couple of good chances through Sidwell and Kasami's long range shooting, but we also creating some troubles to their defense near the end of first half with Best header and Taylor's long kick.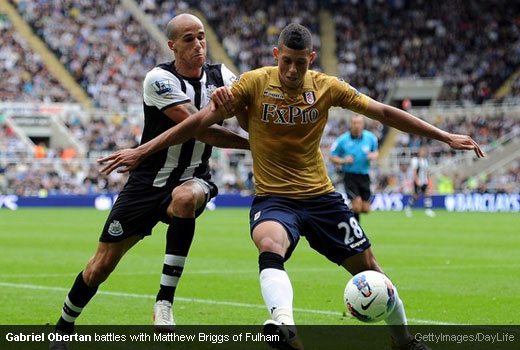 Newcastle's goal came in shortly after the break. Ryan Taylor put a throw in to Cabaye's position with one Fulham player guard him, but still he can manage to escape and sent a thunderous ball that bounch past Fulham's goalkeeper Mark Schwarzer into top cross bar before fall to Leon Best who are free to put it into the empty net.
Soon after the goal, we looks like to turn down the tempo a little bit, and the visitors have two good chances to make an equaliser through Sidwell and Murphy's close range header that both are denied by Tim Krull.
Soon after that, with the introduction of Demba Ba to replaced a relatively quiet Peter Lovenkrands, Newcastle start to dominating again. It was another clever cross from Cabaye to Ba who then sent it to Fulham's penalty area where Best was there waiting to make it 2-0 for Newcastle.
In the dead end of normal time, Fulham finally got one goal through Dempsey's long header that beat Krul who was a little bit up too far from his post. In general, I was pleased with the lads performance today. Espeacially to see how Obertan, Cabaye and Ba are start to settle down with their new team.
Source URL: https://www.magpieszone.com/newcastle-united-got-help-from-the-best/
---