Newcastle United Got a Fairly Good Result in the Battle of the Champions
by shearyadi | November 28, 2010 10:31 am
Today's Premier League match has been the encounter of two champions from different league. Chelsea as the last season Premierships champion and Newcastle United who won the Championships league.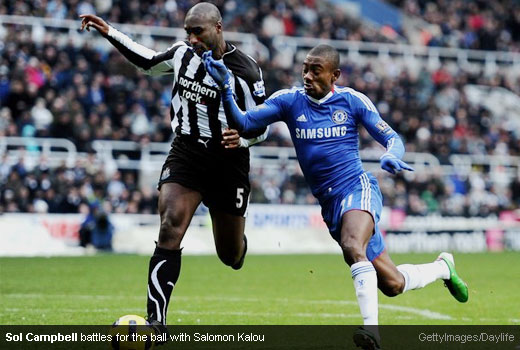 As one of the Toon Army I hope we can win the game, and the signs for it emerged when Carroll took the advantage from the Blues poor defending, it was the moment of joy from this game and nothing is called luck there, it's pure skill that lead to Carroll's goal.
After that goal, we have shown to the world that this young team can compete against any team in the top flight, only a matter of time and good financial back-up from the club owner can make this team more solid.
Playing with 4-4-2 formation is a good decision from Chris Hughton, with one of our striker often playing a bit deeper to support our midfielders. Without Nolan and Barton, I give CH two thumbs up for his brave decision to play with two strikers up front against a team like Chelsea, while any other managers would have playing with 5 defensive midfielders.
The return of Steven Taylor in center to pairing with Sol Campbell has produced a nice result. We are now have the perfect back-up for Williamson-Coloccini pairs, also a good credit from me for our both wing-back for making several good penetration into the opponent side.
Are we in perfect performance today? I must say we didn't. I noticed couple of errors from the lads, and thank God, the Blues are also far from a better team against us today.
Ameobi should have more better understanding with Carroll, both our front men have some moments of where they are too often being in the same side or battle for the same ball. We can increase our lead in the first half instead of being levelled if Ameobi can be more creative in front of the goal.
Danny Guthrie also showing good, although still needs more game before he can reach his peak again. Gutierrez is a little bit lazy and couple of times only waiting for the ball instead of keep moving on to pick the ball.
Tiote and Routledge also in good shape today, especially Routledge who has one perfect moment to score. Hughton will have a headache to make a choice between him and Barton when he's return from suspension.
All in all, I'm quite satisfied for the result, we are keeping the track right and really can't wait for January transfer window to open, I hope Mike Ashley willing to splash the cash in to bring some of CH potential targets to St. James' Park.
Until then, and thanks for coming to this site. Howay the Lads!
Source URL: https://www.magpieszone.com/newcastle-united-got-a-fairly-good-result-in-the-battle-of-the-champions/
---