Newcastle United Carling Cup adventure ended at Ewood Park
by Magpies | October 27, 2011 7:39 am
First half was absolute rubbish by us. They played some decent stuff but were chasing and harrying us like madmen. The first goal came down our right hand side – no one stopped the cross and the finish was decent.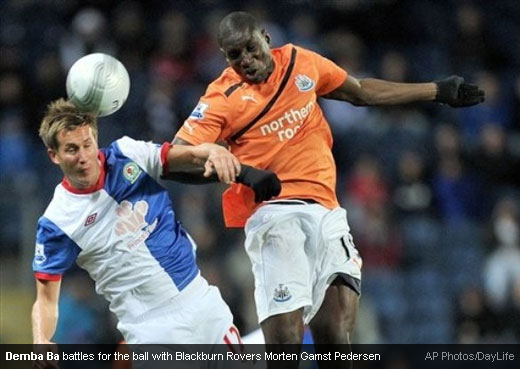 Ba then hit the post when he made a decent chance for himself. He spent all the first half playing up front on his own. I assume Ben Arfa was supposed to be the support player but was never near enough to Ba to take advantage when the big man won the ball. In fact Ben Arfa was woeful tonight so I hope that was a blip.
Davide Santon started at left back and showed a willingness to get forward but something of a relucatance to get back and cover when he'd lost the ball – which he did regularly. He seemed to lack strength and was knocked off the abll far too easily. He moved to right back later on but to be honest, I was far from impressed on this showing.
A word at this stage about the referee. He was shite. For a start, he is very inexperienced at this level. I saw him make a far few cock ups in a League 2 game 10 days ago so I had an idea what to expect.
Blackburn's second goal was a result of his total incompetence. Ba broke into the box and was hauled over by Samba. Everyone in the ground could see this was a pen – expect the ref who waved play on. Blackburn cleared the ball forward and proceeded to win their own penalty – probably was but that's not the point.
It should have been 1-1 and instead we found ourselves two down. Ba spent the time during which they were preparing to take the pen remonstrating with the liner and fourth official – in this he was supported by Pardew!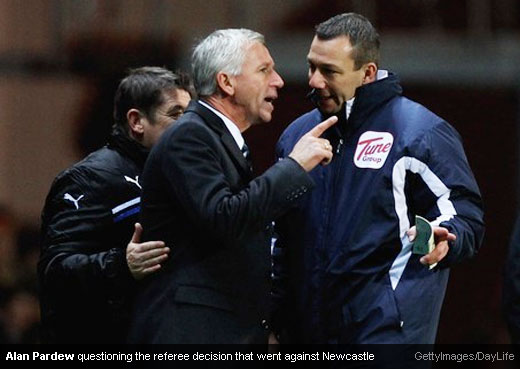 I thought there was a fair chance that Pardew was going to deck one of the officials he was getting so upset at what was going on. In the first half a free kick was given against Colo when the ball was hit against his hand from about a yard. When a Blackburn defender handled in the box when the ball hit his hand from about three yards – no pen. When anothere free kick was given outside the area for a third such offence Pardew nearly blew a gasket.
We were a bit better in the second half without really troubling their keeper too much. We seemed to lack urgency and never got behind them down the flanks until late on. Marveaux didn't see a lot of the ball in decent positions and Jonas had two men on him every time he was in possession.
Then came added time. We were chucking men forward without getting much joy then Guthrie popped a great shot in from about 30 yards. He'd had a rather mixed night – he lacks real creativity and isn't as effective defensively as Tiote. Good goal though but. It was only when that goal went in that I realised we were far from the only Newcastle fans in the Jack Walker Stand!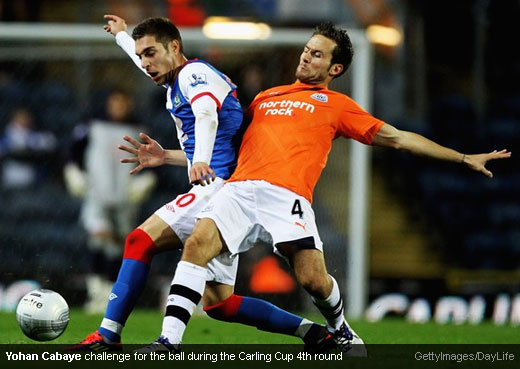 There were still two minutes of the added five (mainly due to their time wasting) but I never expected what happened next! In the fifth minutes of added time we got a free kick about 25 yards out. Mr J said "he'll have to shoot cos the ref is gonner blow". So Cabaye shot – and it went in!! Last kick of the 90 apart from the kick off when the ref blew his whistle straight away. Amazing.
So extra time started with us on a high and them looking fed up. We were pressing more but they got a free kick about 25-30 yards out. Morten Gamst Pedersen shot, it took a wicked deflecttion and went in the bottom corner. So we just kept attacking and Lovely pants was pulled over as he was about to shoot. Ref never saw it of course and ended up giving a corner but the liner was signalling for a penalty. Lovely pants put it away with ease.
At this point, the Toon fans in the Jack Walker were on their feet cheering the goal and some sad git behind me went and complained to a steward saying he should throw them out. The steward basically told him to bog off!
Sadly, the heroics at Forest weren't to be repeated. They got a free kick which Pedersen chipped to the far post when Samba won his header and Givet nodded in. Now I can only think the liner thought Givet had come from behind the ball because if he hadn't he was well offside there being none of our players withing a country mile of him.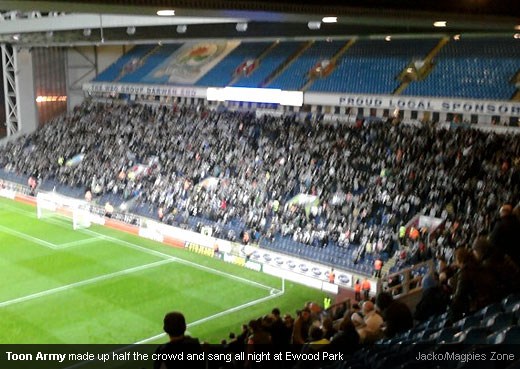 Colo nodded one over the bar in the dying seconds but that was that. Shame really. Man of the Match?? The 5,000 Toon fans who made up half the crowd and sang all night.
Source URL: https://www.magpieszone.com/newcastle-united-carling-cup-adventure-ended-at-ewood-park/
---