Newcastle United being robbed in the injury time
by shearyadi | January 16, 2011 11:00 am
It was one hundred percents fortunate for the dark side to score an equaliser during the stoppage-time which is unbelievable 5 minutes long as nothing major was happening in the second half that needs to be paid off.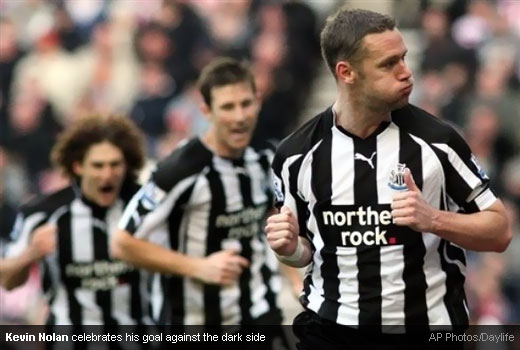 We did start the match in much comfortable style than in the last FA Cup third round match, and in just 4 minutes into the first half, Ameobi should have scored for the Toon if he can calm his nerve and steady the ball first rather than make his shot wide of a post.
It was the sign of more under par performance in terms of goal scoring opportunity for the newly adopted Nigerian player. I was thinking of his Geordie status which is now surely gone by chosing to play for the Super Eagle team, and maybe that has cost him a little bit out of the mood to scoring a goal against the mackems too.
For couple of times Ameobi looking like a school boy team player who has very little of creativity up front. Despite he can won the ball up in the air couple of times, and causing Bramble to have a torrid afternoon, he was surprisingly failed to create every opportunity he has to converted into a goal.
His final passing ball was also very poor and it seems he just get the ball away from him without looking at where his team mates are before releasing the ball.
Only one time he did great when he rising high above all mackems defender to meet Barton corner and flicking it on into the danger area and struck Bramble first before Nolan backheeled the ball to give Newcastle a deserved lead.
Without the presence of Andy Carroll, we are once again failed to convert many opportunities to double our lead since then. Leon Best is once again return to his natural form which is need couple of weeks or months before he can start to produce goals again.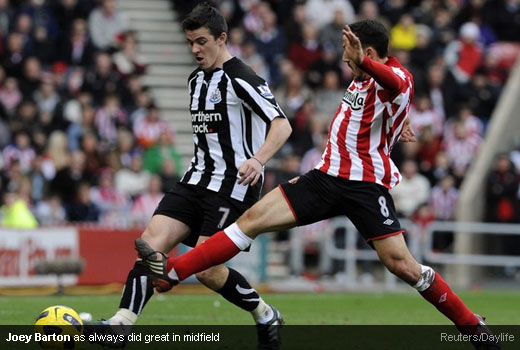 During the match, we are totally controlling the midfield with Barton and Nolan command the area expertly. In defence, Coloccini and Williamson are also securing every inch of our side, with Enrique also doing great to charge the ball out.
Strangely, I was a bit of surprise that without Tiote we still can play good defensive role, and it was a good sign after all, we are now can be sure that we still have a team which can do better in controlling the midfield without one of our first team player, but not in front.
It was clear that we still need one or two additional attacking player who can score goals to cover the absence of Andy Carroll in the future. I'm not sure we can depend on any of Best, Ameobi or Ranger to replace Carroll when his out.
Until then, thanks for coming to this site and Howay the Lads!
Source URL: https://www.magpieszone.com/newcastle-united-being-robbed-in-the-injury-time/
---