Newcastle United 2008-2009 season preview
by Magpies | August 7, 2008 10:52 am
I went to my first home game of the new season last night at St James Park. Newcastle played with in their new away Purple strip against an all in white PSV team.This was very much the typical pre season warm up, with neither team really looking to put in 100%, probably due to a lack of match fitness.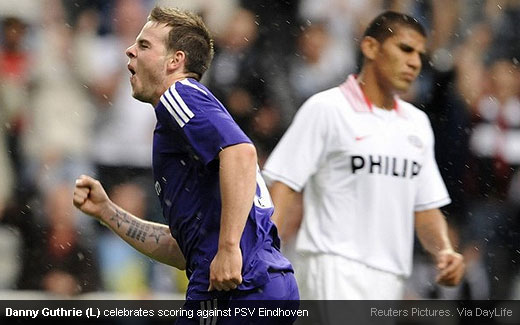 Newcastle started well going 2-0 up within 8 minutes. Steven Taylor scored a brilliant headed goal and new boy Guthrie showed promise with a clean strike at the Leazes end.
After that Newcastle stopped attacking and it wasn't long before PSV started to gain more dominance on the ball than they had in the early stages, without causing too many problems. Shay Given made an athletic save, tipping a long range shot over the bar and looks to be back to his best.
I was a little concerned with the lack of strike options available to KK. Newcastle started the game with an strike partnership of James Milner and Damien Duff. Both looked lively but we can't expect them to be able to do the business in the premier league as they are both midfielders.
There was talk before the game that we would play Smith upfront as a lone striker. He was not even on the bench and the rumors going round in the media today are that he wants a move, possibly to Everton who have just sold Andy Johnston.
Hopefully the rumours are true and we can offload the 28 year old who had failed to make a significant impact since arriving from Man Utd.
A fair portion of the blame for his lack of goals is due to him playing most of his career at the club out of position, but last night was the perfect opportunity for him to lay claim to a strike place that is currently bereft of competition, with Owen and Martins both absent. The useless Shola Ameobi will surely not figure in the strike line up come the first game after failing to appear even as a substitute.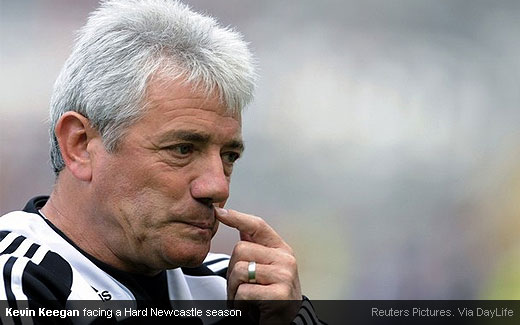 So how is the season shaping up? Well as always it's hard to tell before a ball is kicked in anger but if we can keep Owen and Martins fit then we could have a potentially deadly strike force, especially with the arrival of Gutierrez who looks promising as either a left or right wing player. He looked to have more creative flair than anyone else so there is also the possibility that he could play as an attacking midfielder should he be needed.
We still have Nzogbia who could play a a left winger with both Milner and Geremi as options on the right so there is no shortage of player who can create assists from the wings for Owen and Martins to feed off.
Guthrie looks solid and reliable in midfield with Butt so that just leaves the defence. As an attack minded team Newcastle have never had a watertight defence but the signs last night were very positive.
We did conced two goals but Habib Beye looked impressive as ever at right back. Provided he can stay fir for the season there are no worries that he will do a solid job for the whole season.
Lius Enrique also looked sharp at LB but it remains to be seen if he can cut it in the Premier League. This will be a make or break first half of the season. Let's hope he can do it.
Taylor has really been impressive. He looks fit and was bossing the defence so with the possible addition of a world class defender Colocinni as his partner things are looking up. Defensively, a lot will rest on that signing being completed, preferably before Saturdays game against Valencia.
It would be nice to see a few more signings in place before the season starts. A midfield playmaker must surely be high on Keegans list of priorities as we may struggle to create chances through the middle if we do not get one.
The squand looks fit and in a positive frame of mind. If we can get a good result on the opeing day against what will probably be an under strength Mau Utd at Old Trafford, I'll be happy.
Source URL: https://www.magpieszone.com/newcastle-united-2008-2009-season-preview/
---