Newcastle Pursuing 1,000th Post War League Win
by shearyadi | May 2, 2008 8:22 am
Next monday night fixture at St. James's Park will have some memorable occasion especially for Newcastle United and our in-form again Steve Harper.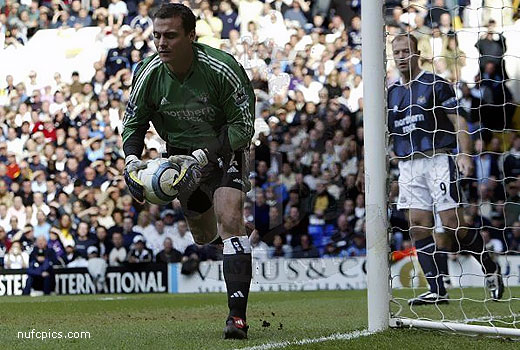 A win against Chelsea would be our 1,000 post war league wins and also 100 league start for 33 years-old Harper. That would be our fourth win in succession at home. King Kev is not in the mood to be the first manager to taste a defeat against the London side since Chelsea's have their last Premier League victory at St James' Park was on 29 December 2001.
"My focus now is trying to win these last two football games we have and then trying to get three or four players in that can give us all a reason to come back with even more optimism than we have at the moment." Keegan said.
Former United left-back Olivier Bernard also tipped United to do great once again and extend the unbeaten run into eight games. Bernard bagged the winner in 2003 against Chelsea to booked a place in the top four for the second season running under Sir Bobby Robson.
Steve Harper, who will mark his 100th league start with United said the game of the season would be against Chelsea at home on Monday. He said, we're not interested in who wins the title, all we care about on Monday, is to go out and try to win that game.
He also praised Kevin Keegan's tactical acumen since he returned to Newcastle United. Keegan's phenomenal decision to change the Toon formation to a 4-3-3 formation at Birmingham has seen the Magpies flourish in recent weeks.
"He's infectious, he just walks into a room and gets an extra 20 per cent out of players." Harper said in SkySports website, "You have to give him a lot of credit tactically for what he did a couple of months ago. He changed the formation at Birmingham and got a big point when we needed it, and since then we've been a lot more solid at the back with a goal threat up front, and that's a good combination."
Source URL: https://www.magpieszone.com/newcastle-pursuing-1000th-post-war-league-win/
---