Newcastle fought back to stuns Everton at Goodison Park
by shearyadi | October 5, 2008 1:30 pm
Have never win at Goodison Park since 2001, their two early goals seems to doom us even more deeper, but thanks to the new injection of spirit by United's caretaker who unfortunately missed to watch our two goals.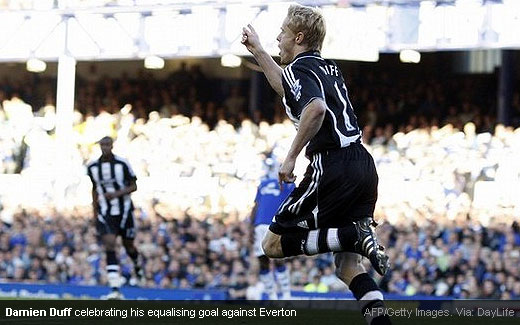 We were dismal in the 1st half, but fairly well dominated the 2nd. Leighton Baines cleared off the line our two good chances to win today's game, one from Tylor and one from Zogbia.
If there were some of our player that looking good today, a special credits are given to N' Zogbia and Guthrie in particular, while Bassong again did a good job when he replaced Enrique who had been awful (again).
Playing as right-back again, Taylor had some dodgy moments defensively, but he then provided the inspiration for the fightback, and took his goal superbly from Geremi's cross.
Everton get the first goal of the game today when Nicky Butt scythed down Leighton Baines in the box. Arteta take the 17th-minute penalty and stroked it into the bottom right-hand corner.
They doubled the lead in the 35th minute after another dreadful performance by Collocini who went to sleep and was failed to keep the ball in his possession to allowing Marouane Fellaini flicked the ball into the net.
Taylor's superbly header giving us a hope in the injury-time after Geremi swung in a superb right-wing cross to the far post.
United's completed the unpredictable comeback early in the second-half. This time it was Taylor who races on the right and provide a neat crossing the ball back to Duff, who beat Howard from eight yards.
A terrific point in the circumstances that hopefully provides a platform for the upcoming home games. And in an interview after the game, quoted from the official site, JK said he was happy to take a point given we were two goals down.
"I want to leave this club in a really good way whenever that is and make sure they are in a better state." Joe added, "This is a team who had lost five out of seven and morale was rock bottom. It would have been wonderful to get a win today but it's great that we showed so much desire."
EVERTON
Howard, Hibbert, Jagielka, Lescott, Baines; Arteta, Osman, Fellaini, Pienaar (Vaughan, 84); Saha (Anichebe, 72), Yakubu.
Subs not used: Nash, Yobo, Castillo, Valente, Rodwell.
NEWCASTLE UNITED
Given, Taylor, Coloccini, Cacapa, Enrique (Bassong, 39); Geremi (Ameobi, 75), Butt, Guthrie, N'Zogbia; Duff, Owen.
Subs not used: Harper, Edgar, Doninger, Donaldson, Xisco.
Referee: Howard Webb (Sheffield)
Source URL: https://www.magpieszone.com/newcastle-fought-back-to-stuns-everton-at-goodison-park/
---