Newcastle ends the Anfield misery with a point
by shearyadi | November 5, 2012 2:51 pm
Yesterday we were so close to write the new chapter in our history at Anfield with a comfortable win. From our 18 Premierships games there we only can manage one win and it was in the early days of my Newcastle United history.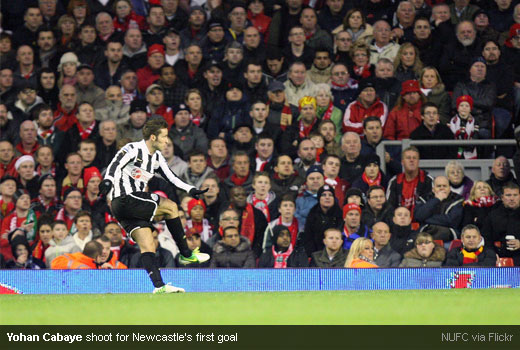 That day is when Kevin Keegan was Newcastle United manager and also our first Premier league season. Newcastle players who scored were Andy Cole and Rob Lee.
And when Cabaye finally break the deadlock with his typical shot on goal from a perfect Ben Arfa's cross, I was screaming and thought that the goal would definetely a sign of our winning day.
The game starts with little chances in the opening minutes for both team with Luis Suárez, as we often saw keep performing what he can do best beside scoring goal, falling down to the floor with everytime he has been challenged.
In the 43rd minute Hatem Ben Arfa overturned Jose Enrique down the right flank before serving the ball over to the far post where Yohan Cabaye is waiting to controll the ball and then volleyed past Brad Jones.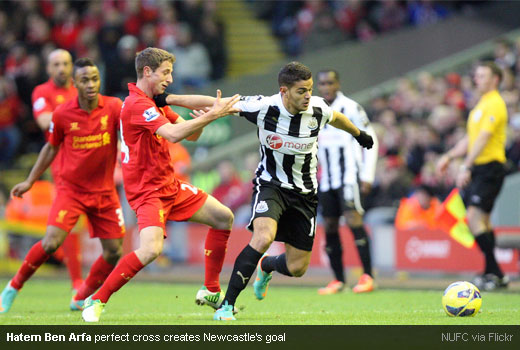 To be honest, their equalising goal also a special one, from you know who and that will keep me thinking of why that such quality player would have another equally high quality skill to easily down to the ground.
Suárez from the start, had a constant battle with Coloccini from within minutes of play when he was appealing in vain for a penalty for a slight contact from Colo.
His intention is finally come to a conclusion with seven minutes remaining which I hate to say but it may have been a well deserved red card for our captain although from a replay there's no hars damage was inflicted. As for the remaining seven minutes plus four of added time, we fought hard to keep the score sheet in ballance, and come out from there with a point.
Source URL: https://www.magpieszone.com/newcastle-ends-the-anfield-misery-with-a-point/
---