Modibo Maiga wants to play for Newcastle
by shearyadi | August 17, 2011 9:37 am
In about two weeks now before the end of summer transfer window, Newcastle still looking for players to fill in some key positions. One of them is the Mali international striker Modibo Maiga who has reiterated that he wants to join Newcastle United.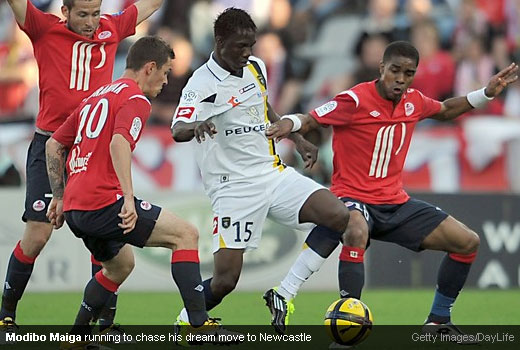 Born in Mali 3 September 1987, Maiga prefered position is forward but he also can play as a winger. With Sochaux during the 2010/11 campagin, he struck up 30 goals in partnership with Ideye Brown with each scoring 15 goals.
The question is, although Sochaux has qualified for the Europa League play-off, and scheduled to face Metalist Kharkiv in their first leg campaign on Thursday, Maiga still keen to join us and I hope he has a good will in whatever he has in mind by joining us this season.
I just worried that what he did to his current club is going to happen to us in a year or two, if he's then actually did very good for us and scores many goals. Meanwhile Nicolas Anelka wants to quit Chelsea as he feels being overlooked in favour of Chelsea's new boy Fernando Torres this season, maybe he's a better choice to pursuit than Maiga?
But, I really do hope that if Maiga's deal finally get through and he wears the sacred Black-n-White shirt, he will have the same spirit as the other successful Toon foreign players has done before him.
The same hope is also for our new boys who already in the club, especially for this Saturday match against the mackem.
"There is no greater feeling than sinking Sunderland in a black-and-white shirt." said Nobby Solano as quoted from the Chronicle Live today.
Solano is also hoping that our new stars like Demba Ba, Yohan Cabaye and Gabriel Obertan can quickly know if they did score that day, they will become a hero of the Toon Army worldwide. So, get ready lads! There's no easy way against the mackem but it's a game where your whole pride is in!
Source URL: https://www.magpieszone.com/modibo-maiga-wants-to-play-for-newcastle/
---