Manchester City vs Newcastle United Premierships Review
by shearyadi | October 3, 2010 9:16 am
Probably not the result that we wanted but all in all I'm quite pleased with the Lads performance today. We did keep the game very much alive and shows that this is not the same team that was relegated two years ago.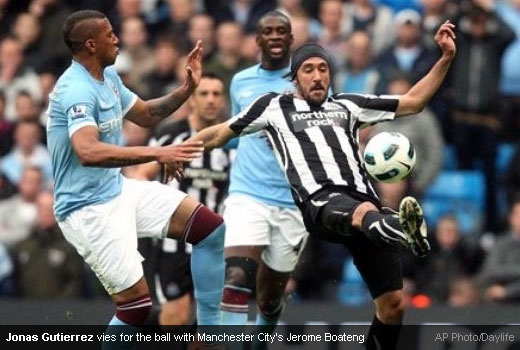 I should say the City fans will be very lucky to have the help from referee Mr. Atkinson for his two questionable decision that one gives the City a penalty reward for what in my opinion was not a fault by Williamson.
The other one is a more clearly a penalty for Newcastle when Lescott took down Shola Ameobi with a rather rash challenge inside the City box, but Atkinson waves his hands for a no-penalty decision, but we did fair play and not making much complaints about his poor decision.
One side-note that I would like to express here is that we are defending too much in second-half and not making more penetration to the home side since the start of second period.
I would love us to keep going into them just like what we did after Jonas marvelous strike give us the equalising goal to cancel out Tevez's penalty.
Losing out Ben Arfa in just only four minutes into play was probably cost us this game, although we maybe not come home with a win, but with his presence in the field, I believe the City players will need to think again to force their players out to attack us.
Another good point from the Lads performance is the way Tim Krull has developing his skill. He has a quite excellent performance today and denied at least two City chances.
With the departure of Coloccini who suffered a groin injury, Sol Campbell came as substitute and for a player at his age, he did effectively to keep Adebayor out of his position and has no chance to do dangerous play infront of our goal.
Keep those spirits alive in every game and we will be fairly in save zone in January where I hope Mike Ashley will splash more cash to buy new players to strenghten our thin squad.
Until next time and thanks for visiting this blog, any comments are welcome. Howay the Lads!!!
Source URL: https://www.magpieszone.com/manchester-city-vs-newcastle-united-premierships-review/
---