Magpies 2 – 1 Canaries
by shearyadi | November 24, 2013 1:15 am
Finally the Magpies can score from corner after 2 long years of waiting, but we also let them crawl one back from another corner situation where we supposed to burried them deeper in second half.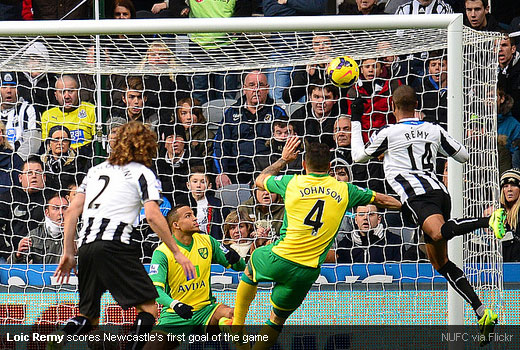 At the start of the game, we were the brilliant side and took the lead in just 2 minutes of play with Remy converted the goal from Cabaye's corner.
Since that quick goal, we keep the heavy pressure under the Canaries shoulders and push them to defend, although they also have a couple of situation where we're a bit lack of concentration in the back, thanks to our extra defender in Shola to clear the ball out when Krul seems out of position to secure the bouncing ball for the page of codes.
In search for a third successive wins in a row this season, with the help of old Shola Ameobi who are once again proven as the better target man than Cisse, Newcastle doubled the lead in the first half through his neat flick-on ball to put Gouffran clears to tap the easy ball in.
With another half-chances going wasted through Sissoko and Remy, Newcastle hang on the lead until the end of first half.
In the second half, surprisingly we are sitting deeper, and let the visitors to come on to us. I don't like it when we are playing on the counter attacking style against a team like Norwich City.
It's just not seems right to defending a 2-0 lead at home by playing like that, I would prefer to see more attacking approach just like what we did in the first half.
That way, we give them four corners in a row that resulting one goal back for them, it's just silly, then starting to attack them again really not a clever decision. The fans will demand more positive approach from the lads in our next home fixture against Brom, where we should have win that game too.
Source URL: https://www.magpieszone.com/magpies-2-1-canaries/
---