Keegan To Tamed Barton and Get The Very Best From Him
by shearyadi | April 2, 2008 5:06 am
Joey Barton is well known to his wild behaviour, and even marked as one of the premierships Bad Boys. He's banned to play in Merseyside, facing a trail that could bring him into jail and was not so popular among the Toon Army for months after signing for Newcastle from Manchester City last summer.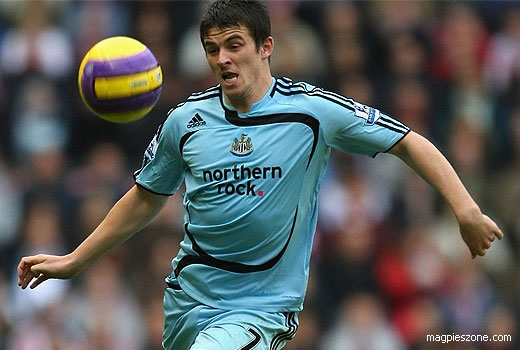 But that was he is before Keegan came. It was somebody's past, an old story of Joey and hopefully he is now what he has shown last Sunday at White Hart Lane. Joey Barton is reborn.
King Keegan believes his performance at Spurs on Sunday was the best he has ever seen from the United midfielder. The 25-year-old's all-action display during the 4-1 victory at White Hart Lane was the most impressive performance ever and Keegan also admit as the game went on he will definetely just got stronger and stronger.
"I said to him afterwards, 'That's the best I have seen you play'." Said Keegan at the official site, "He had some very good games for me at Man City but I don't think I have ever seen him as outstanding as that."
"He was winning tackles, bursting forward and picking out passes and it was his work which set up Oba for the fourth goal." Keegan added more "And credit to him, he has got some problems off the field which are well documented, but he has come in and trained properly and worked hard and is reaping the rewards now."
My mate Gallowgate Jim said Joey Barton's 'best' is not an issue for debate. He didn't just show potential at City. He didn't just 'show signs' of one day becoming a good player. He WAS a class act. They were a poor side and he kept them up more or less by himself.
There are plenty of excellent midfielders. But very few of his type. He's in the Steven Gerrard plus Frank Lampard category -The no frills, total efficiency category.
Completely different to the likes of Alonso, Arteta who are also excellent midfielders in a different way. I'm not saying he's as good as those two. But he plays a similar game. Good first touch, look up, bang.
This isn't off the back of one or two good performances. It's on the basis of a whole season at City where his assists/goals ranked alongside Gerrard and Lampard.
His ability has never been in doubt. It was always an issue of whether we could get him playing like that again. Now there are clear signs that he's getting back to his best. Every week since Keegan came in and gave him a clean slate he's improved. Just wait till he starts scoring.
Source URL: https://www.magpieszone.com/keegan-to-tamed-barton-and-get-the-very-best-from-him/
---