Keegan relying on 'spirit and togetherness'
by Magpies | June 20, 2008 11:42 am
The plans for Newcastle United's success next season have been revealed by Kevin Keegan. Instead of buying some decent players, he is looking to build a 'spirit and togetherness' about the place. Like any Keegan side, I don't think team spirit will be much of a problem – he is a good, respected man who can get the best out of some players. However, the togetherness part to this plan isn't looking so healthy at the moment.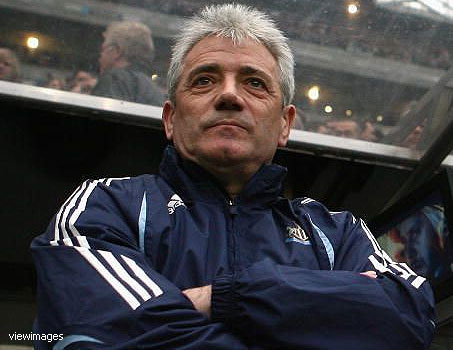 There is a great deal of uncertainty surrounding who will be where at the beginning of next season. The fact that the squad hasn't been added to yet this summer is bad enough, but throw in the scenario that Joey Barton is in jail, Mark Viduka is injured (surprise, surprise) and Geremi and Abdoulaye Faye are risking injury in World Cup qualifiers – you'd be forgiven for being a bit apprehensive about the start of next season. Even first team coach – Steve Round – is uncertain he will stay beyond his current deal which expires next week.
A good start is crucial for Keegan's men next season. Fair enough, there were some positive signs at the end of last season, but a bad start to this coming season could see Newcastle follow a similar run of defeats that plagued Keegan's first nine games in charge. It doesn't exactly help that the Magpies start at Old Trafford in a game you would bet on Manchester United[1] to win. Then, after a home game against Bolton, it's another tough away game, this time against Arsenal.
If Keegan doesn't make any significant signings before these games and Newcastle suffer their normal injury crisis, it could be the awful start to the campaign that Newcastle fans have nightmares about. Like I said, a positive start, even if it is just in the performance is crucial. Keegan and the fans need to be singing from the same hymn sheet and if a bad start is made – this might not happen.
Two men who are key to Newcastle's success are Steven Taylor and Michael Owen. First of all, they need to stay fit. Secondly, they need to tie up new contracts. Both these players, along with Steve Harper, see their deals expire in 12 months time and the last thing Newcastle need is speculation about players' future when the January transfer windows come around. It must be one of Keegan's highest priorities to tie these players – particularly Owen – down to a long term deal.
There has, of course, been rumours about players coming into the club on a daily basis. However, most of it has been 'paper talk' with no real substance. More worryingly, the more significant speculation has involved players leaving the club. James Milner has been linked with a move to Liverpool and fans' favourite Oba Martins is apparently a target for both Manchester United and Arsenal.
Transfer rumours aside, realistically, the target for Newcastle next season is a top ten finish. That would be a nice improvement. If you were to bet on the Premier League[2] you'd be safe in saying that the 'big four' will occupy the top four and if Newcastle could finish in the top six of the next mini-league then I think that would be a decent enough season. Throw in a piece of silverware and it would be an excellent season.
Keegan is, as ever, remaining positive. He believes he can get stuck into the current problems and help Newcastle begin next season well. In my view, all he needs is a little bit of luck – he has the passion and knowledge. He needs a transfer coup to come off, he needs Owen and Viduka to stay fit and he needs the fans on his side from the start. 3-0 win at Old Trafford on the opening day anyone?
Thomas Rooney – Freelance Sports Journalist
Endnotes:
bet on Manchester United: http://betting.betfair.com/football
bet on the Premier League: http://betting.betfair.com/football
Source URL: https://www.magpieszone.com/keegan-relying-on-%e2%80%98spirit-and-togetherness%e2%80%99/
---