Joey Barton for England
by shearyadi | November 4, 2010 10:41 pm
Just a few months ago, Joey Barton's claims that he deserved to add to his one international cap were laughed off by many, including some Newcastle United fans.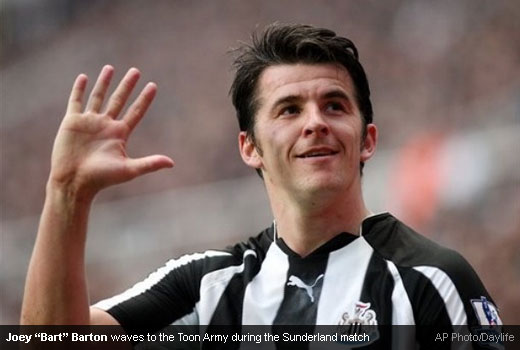 However, just ten games into the season Barton's ambition, although still clearly some way off, appears far more realistic. The midfielder has been ever present in the league this season and the midfielder has rewarded the Newcastle manager's faith with a series of stellar performances in a wide role for the team. Some people had made Newcastle Premier League tips[1] for relegation, but Barton has helped them cruise into seventh.
Barton's career to date has been plagued by injury problems and issues brought on by ill discipline and unwise comments in the media. However, since his move from Manchester City, the player seems to have been on a gradual learning curve and it would now appear that all is coming good at precisely the right time for the midfielder.
An England call-up is quite clearly not on the horizon for Barton, with so much competition in the midfield positions, and Fabio Capello looking to hand opportunities to young, untested individuals.
However, the Newcastle betting[2] suggests the club are in for a tough time against Arsenal this weekend and if Barton can shine in that game it will surely only be a matter of time before the calls from the terraces for the player to be involved in Capello's plans catch the ear of the England boss.
With Capello quite clearly resistant to caving in to public pressure, however, whether or not those calls are heeded is another matter entirely.
Endnotes:
Newcastle Premier League tips: http://www.betfairfootball.com/
Newcastle betting: http://www.betfairfootball.com/premier-league/newcastle-united/
Source URL: https://www.magpieszone.com/joey-barton-for-england/
---