If They Can Do It, We Also Should Do the Same
by shearyadi | May 12, 2008 2:32 am
Kevin Keegan in such full praise to his fellow Everton manager David Moyes for their wonderful achievement to finish fifth this season and get the UEFA spot.
Toon Sunday's 3-1 defeat at Goodison Park saw the difference between a team with something to fight for against Newcastle team with nothing to lose and just play to complete the season off. To have lost Martins, Viduka, Geremi and Barton in the squad makes it even worst as we don't have enough back-up.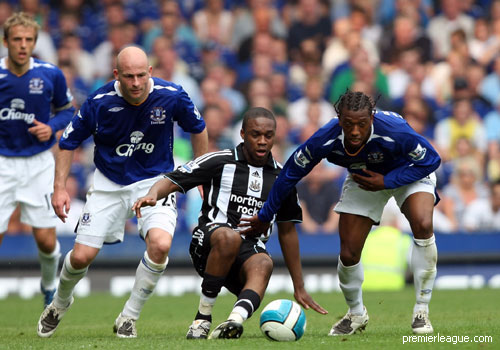 Being out-played and fell behind in the 29th minute, we looked out of inspiration without supplies from Geremi and no Martins to break the Everton defence. Carroll is still far away from being decent Premier League striker although he looks promising for the future.
Michael Owen is being push as the target men once again but couple of times to have misunderstanding with his striking partner Carroll to make it easy for Toffees defenders to keep him quiet most of the game. In midfield, we are one player less with Alan Smith playing as he always be, useless.
"Everton are an inspiration to everyone." KK said after the game, "They haven't got a massive squad but they made good investment in the summer with players such as Yakubu, Lescott and Jagielka."
"They have a got a good squad and a great togetherness and a lot of very good professionals. But if they can do it then why can't we?" Toon gaffer added more.
True, we have to create the new Newcastle team next season, a team with togetherness and feel responsible in every match. Keegan said we will offload Carr, Ramage and Troisi next season, but what about Smith, Duff and…. N'Zogbia?
About Peter Ramage, I don't have bad feeling for him, for me he's such a player as he is but since Keegan have a little too many in our defence, I can understand why Keegan decide to give Ramage the chance for him to look for more opportunities to play more often somewhere with other team.
The same thing with Troisi. Although for some games he looks decent player, but I don't think he can win first team squad in near future, so it may good for him to look elsewhere. Carr, well…what can I say about him?
Smith and Duff defenitely off, they have finished long before and they should go too. Zoggy, hard to decide. He's one of the Toon player who is lively yesterday and he also create the one and only goal for us from a penalty spot. I hope Keegan has the plan for him and can keep him next season. Charles still worth to keep in Black-and-White, as I think Duff will packing and leave next season.
Source URL: https://www.magpieszone.com/if-they-can-do-it-we-also-should-do-the-same/
---