Huge deserved credits to wor Barton today against Wolves players
by shearyadi | August 28, 2010 2:13 pm
This is the first magpies zone post of the new Newcastle United premierships season and what makes me write again is after I saw a new Barton playing before my eyes (well infront of television actually).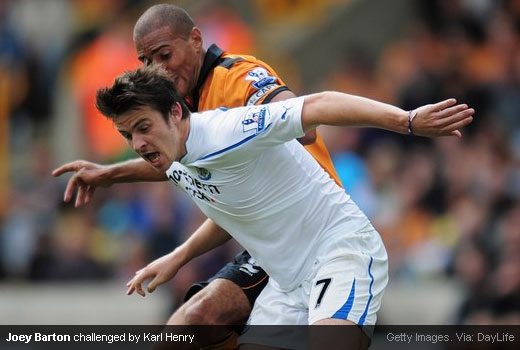 And for this new post, I want to give him huge deserved credits for keeping his concentration all the way up until the very end of the game before finally being booked at the death of injury time.
The game itself was a breathtaking one and without high tempo both teams creating some dangerous chances but only two goals were finally created. And spealing about the goal chances, I think we have the better numbers than the home team has.
We should have gone 2 goals ahead in first half, just if Carroll and Nollan took their half-chances well. Actually Carroll should have another hattrick today, and one great chance has gone off but only produced a yellow card which I think a little too harsh for him.
Then from a good corner kick, the home team also have one decent chance with wolves striker Ebanks-Blake headed the ball into the bar, and when the second chance coming on his way he took it very well to give his side the lead. And for his goal, I think our defenders are a bit sleepy in the box and should have done better to keep him in tight position.
The second half started with us going up for the equalizing goal, with wolves several attacking break also producing couple of dangerous moments, but it's Carroll who took his chance very well this time to booked his fourth premierships goal this season.
All in all, a good game to watch with plenty of yellow cards flying out of the referee pocket, and I think a draw is a good result for us. Can't wait to watch Tiote playing in midfield for us in two weeks time after the international break next Saturday, as i think he would get his work permit shortly.
Source URL: https://www.magpieszone.com/huge-deserved-credits-to-wor-barton-today-against-wolves-players/
---