Handling the Football Administration Behind the Scenes
by shearyadi | May 4, 2008 9:00 am
Speaking about how many transfer kitty that the top four would spend in the summer is like a daydreaming story for most of us, an ordinary supporters, who have to work all day and all night to collect pennies just for a ticket in weekend to see our team playing.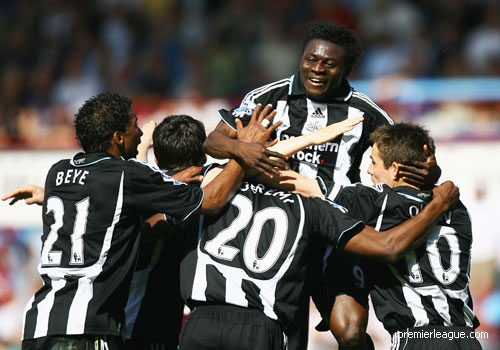 These are coming the sunday newspapers and many of them circulating the old and new speculations about the premierships team summer transfers. From News Of The World article, believe it or not, Arsene Wenger being given the green light to splash £15m on Oba Martins.
Concurrently, The Mail recknos Wenger's transfer kitty has been slashed to £25m, meaning he will only be able to sign three or four players in the summer.
Other news from NOTW also has Abramovich authorising a record-breaking £80m move for Barcelona's, Lionel Messi, while Sir Alex Fergusson ready to make a £25m bid for Citeh's Micah Richards. Newcastle also interested in Micah in January but the player choose to stay and extend the contract.
With the latest City situation where Eriksson is almost certain will not in charge again next season, the possibilities are now open wide again for other premier league giants to get some of their quality players out from City of Manchester.
Meanwhile, Kevin Keegan said once again that Michael Owen's contract situation at St James' Park remains unresolved and he was keen to open discussions very soon in the near future before it's too late.
"He has every right to be free at the end of the season and go anywhere he wants," Keegan said in The People. "That's why I said eight weeks ago we should tie him up. If we don't, and we lose him, then what can I say?"
Owen situation has been the subject of speculations from the start of the year of 2008. When we were still strugglin in relegation battle, Newcastle chairman Chris Mort preferred we secured our premier league status first before starting any new contract extention for Michael Owen.
Clarky, one of Magpies Zone contributor said that Mort's policy probably reasonable when dealing with someone like Stephen Taylor. However, for someone like Owen, Kevin Keegan is spot on in believing we should be sorting his contract out just as soon as possible.
This kind of thing confirms to me Chris Mort's worrying lack of knowledge and experience of the fooball game. I also worry about Keegan losing faith in those handling the administration behind the scenes, and how he might react to losing a player like Owen through sheer bloody-minded procrastination.
Source URL: https://www.magpieszone.com/handling-the-football-administration-behind-the-scenes/
---