FA Cup 3rd round Newcastle United 2 – 1 Blackburn Rovers
by Magpies | January 10, 2012 12:51 am
Perhaps unsurprisingly after Wednesday's exertions, we were rather sluggish and leggy 1st half. We lacked any presence in their PA and several good crosses found no one in the PA and attacking the ball.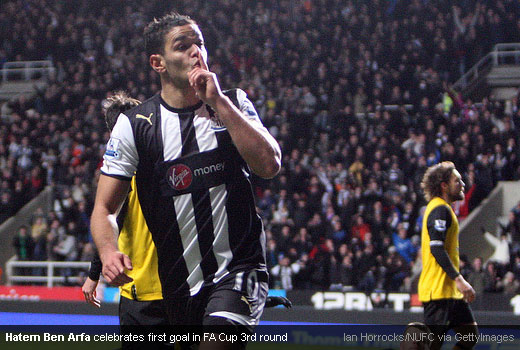 Their goal was the end result of some sloppy defending by Williamson and Colo, but otherwise they offered little in the way of a threat.
We upped our game in the 2nd half, but despite a lot of good possession just couldn't find the target. A Williamson header hit the angle and went out and, Shola blazed high and wide when wide open on the edge of the PA and with plenty of time.
It was looking as though Blackburn would hold out when HBA took possession around 35yds out. His mazy run and thunderous strike was truly Maradona-esque. Fabulous goal. His overall performance was a bit in and out, and he looked more comfortable after going out wide when Obertan was mercifully taken off. He seemed to benefit from that bit extra time he got in the wide position.
Jonas had a good 2nd half, as his developing partnership with Santon caused Blackburn all kinds of problems, and the winning goal was well created by Shola and beautifully taken by the Spiderman.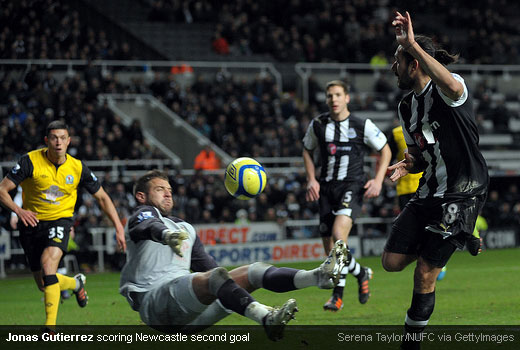 Abeid did ok on his debut and certainly didn't look overawed. He could prove to be another good 'un.
Without playing well, Shola improved things up front simply by getting in and around the box. Best needs to recognise that he is now expected to be the main man, and he needs to concentrate on getting on the end of things rather than getting involved in the build-up. We dominated posssession yesterday without offering a consistent threat, and this has to be a real concern over the next few weeks.
Not a classic but at least we're in the hat.
Source URL: https://www.magpieszone.com/fa-cup-3rd-round-newcastle-united-2-1-blackburn-rovers/
---