Every Newcastle player was made available for transfer
by shearyadi | September 4, 2008 9:37 am
I bet you are will have a sudden heart attack when you read the title above. I was more than shock and feels like hearing the end of the world is tomorrow. To be honest I can't guarantee that the news about it was genuine or coming from reliable source.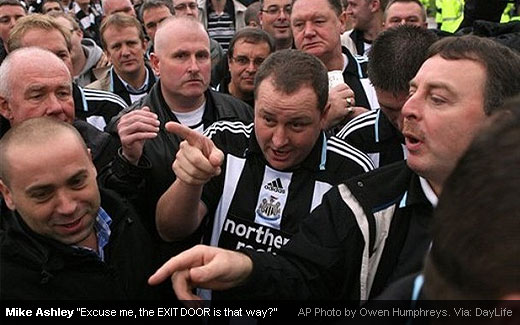 The title was part of a shocking article from the Chronicle today by Alan Oliver. If you are regular visitor of this blog, you may so very familiar with him. He was famous with the 'club insider' and have so many 'informan', but these last couple days I see a little bit of solid report, or at least more reasonable story from him about the current Newcastle United situation.
Here's the quotes from Alan's article:
The morale of Newcastle United players has hit rock bottom during the current Kevin Keegan crisis.

That was revealed to the Evening Chronicle by one of the players' representatives.

The players are 100% behind Keegan, have been told nothing and were furious when they heard reports that every United player was made available for transfer on Monday.

A player's representative told me today: "Some agents say they were informed on Monday that every Newcastle United player could be bought and as you can imagine this has not gone too well.

"The players' morale is rock bottom and at the moment they are demoralised and the only good thing about this is that they do not have a game until a week on Saturday because of the international break."
Do you believe that? I was hard to accept it nor to believe what he write on the article, but what I can take as 100% genuine is that all Newcastle players are 100% behind Kevin Keegan, just like 100% of the Toon Army in every corner of the universe. And about the Newcastle players' representatives, they could be Joey Barton and Michael Owen representatives.
Source URL: https://www.magpieszone.com/every-newcastle-player-was-made-available-for-transfer/
---