Everton vs Newcastle United – a late review
by shearyadi | September 19, 2010 10:11 pm
The Toon performance against the Toffees last Saturday was awesome, another fabulous display by all the lads that resulting the first win against them at their own ground since 2001.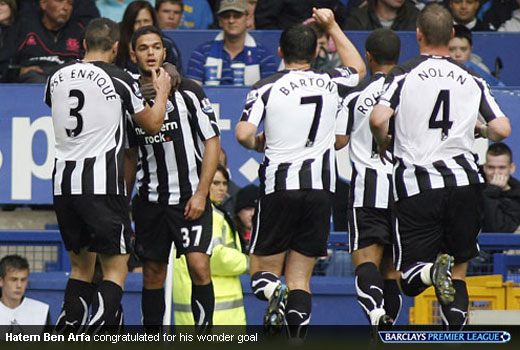 I know this also too early to say that we can guarantee our place in the top flight and is not impossible to reach the top of mid-table, with little help of luck, we even have the opportunity to back in Europe.
Alright, let's now be more realistic and back-to-earth. Our team now is relatively young in Premierships experience, some of them even have their debut in English football league, but not in quality. Hatem Ben Arfa, Tiote, and our own home-grown talent Tim Krul to name some of them.
Frankly, I am very impressed by their performance against Everton. Ben Arfa is a top class player and very interesting to watch him dancing with the ball. If he can maintain that kind of top quality display, I want him to get permanent contract.
In midfield, with the addition of Tiote alongside Barton, we have two rock-solid midfield while our two wingers Ben Arfa and Routledge operating in both sides were successfully resulting chaos in Everton defence.
I also surprised by Tim Krul performance in his Premierships debut. He's stay calm and in full concentration during his sudden call for action following the injury of our main man Steve Harper.
The other lads performance are also great. They're commanding each other and working hard to closed every movement from Toffees players. We successfully give them a hard game to deal with.
Newcastle was re-united, everyone involved in the game and when we look at our team average age it is clearly we have a very bright future, something that I haven't thought before.
Stay positive, we will be alright this season and hopefully next year we will have more addition of quality players and ready to bid a serious challenge for the European place. Howay the Lads!
Source URL: https://www.magpieszone.com/everton-vs-newcastle-united-a-late-review/
---