Damien Duff: We Were the Fittest Side Under Keegan
by shearyadi | March 7, 2008 2:59 am
This post doesn't mean to look for who's telling the truth or who's training method is the better one for Newcastle United. I just feel that this is an interesting stuff to discuss in here.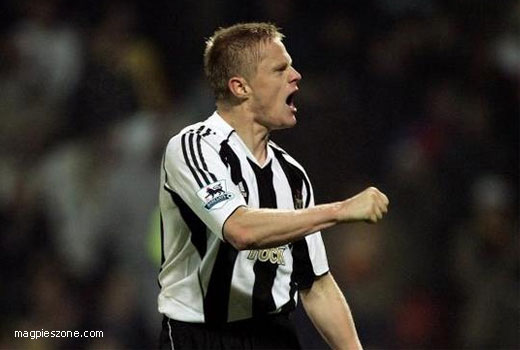 In an interview, Damien Duff said last week in an unprovoked assertion that practice sessions under the new manager had become more harder and intense.
"I know Big Sam used to say that we were the fittest around, but I think we were far from it," United winger said. "I don't think we were the fittest when the new gaffer came in."
The previous manager, who was parted by United chairman last January, responded to Duff words as criticism of his working practices. "There was nothing wrong with the match fitness when I was there, so I think that's a little bit of an excuse," he said. "Sometimes fitness is a mental thing and I think mental fatigue can hit the players more than anything else."
I can see he is telling the truth, and agree that his former employers are in the match fitness according to his style of play which is not needed more energy to achieved. I don't think any Newcastle players need to make more running in each of United game under the old boss who loves to play long-ball, and that's why there's no need harder practice in training like what Keegan now dispatch to the lads.
Since Keegan took charge, no argue that Newcastle first half performance was brilliant. The lads do more running through the field, playing nice one-two passes and chasing the ball more often. But then, in the second half, their performance was dropped as their match fitness was not fit enough into Keegan's attacking style of play.
I admit that I only see one live Newcastle game, against Aston Villa last month. I can see we're doing great and leading into half time with Michael Owen's goal. Then in the second half, we can not repeat our first half performance and were thrashed out by four goals.
Back to Damien's interview, quoted from Times Online, Keegan just saying that his predecessor was perhaps "coming from a different angle". Keegan was also pointed out that "my way is for players to train quite hard" and made the observation that a lack of confidence was palpable on Tyneside.
"If Duff thinks the training is harder, then wait until pre-season," Keegan said. At this point I believe in his way to develop the new fitness standard for each of Newcastle United players. They are being too lazy under the old boss and now its time to wake them up and training even more harder to save our Premierships status.
Source URL: https://www.magpieszone.com/damien-duff-we-were-the-fittest-side-under-keegan/
---