DailyMail questioning Newcastle United empty seats
by shearyadi | August 28, 2008 6:23 am
How nice they are and so really care about Newcastle United. A "Big Thanks" and thunderous "Applause" to Mr. Bob 'carCASS' who wrote the article.
If he does so really care to take a note of how many attendance came to St. james's Park, why he can not take a note to who did the penalty kick for Bolton, as you can read on my screenshot from DailyMail original page.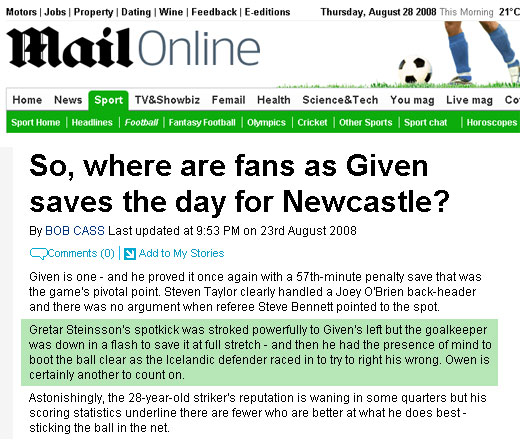 It was Kevin Nolan who did that 58th minute spot-kick if you've forgotten that Mr. Cass and not Gretar Steinsson 🙂
You can read the rest of that clown article here[1], and judge yourself whether he has written good article or just making fun of it. My question is "Are you with the mackems, my dear Bob?" and by the way, my comment while trying to give correction to the wrong written article wasn't get approved? lol!
Endnotes:
here: http://www.dailymail.co.uk/sport/football/article-1048596/So-fans-Given-saves-day-Newcastle.html
Source URL: https://www.magpieszone.com/dailymail-questioning-newcastle-united-empty-seats/
---